September 15, 2020 WCC Marketing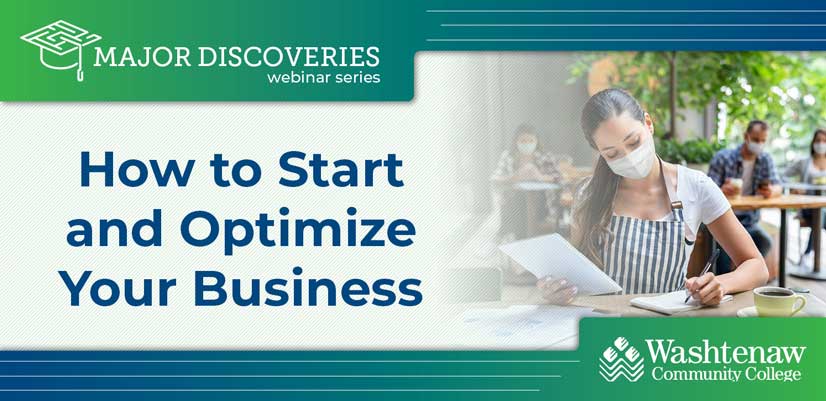 Have an entrepreneurship spirit and planning to start your own business? Already have a business and interested in taking it to the next level? If so, join us for Major Discoveries: How to Start and Optimize Your Business, a 4-part webinar series to help you discover the world of entrepreneurship. Each webinar will feature entrepreneurship faculty and business owners from the Washtenaw Community. We encourage you to attend all four sessions.
Every webinar will occur on Thursday in the month of October from 1 – 2 p.m.
Discover Entrepreneurship at WCC!
Interested in starting your own business? Learn more about our Entrepreneurship and Innovation Certificate program.
Questions? Contact Lauren Ward at [email protected].
Business and Computer Technologies Division & The Entrepreneurship Center
How to register:
Registration is open to all current students, students considering WCC and Washtenaw community. Please register by clicking the button below.
Webinar Series Overview:
Webinar 1 – Thursday, October 1, 2020
WCC Resources for Business Owners featuring the Entrepreneurship Center and Bailey Library
Did you know just how much WCC has to offer local business owners, entrepreneurs and future business owners? We have our very own Entrepreneurship Center (EC), Entrepreneurship certificate credit courses, Small Business Development Center and business librarians who can help you with free market research! Come share your lunch hour with us and learn more about all the FREE resources to help you with framing a new business idea or building and growing your current business.
In this first of a four-part virtual series, hear from EC staff, business faculty and our librarians for a quick overview of how we can help you be an entrepreneur! Ask questions during the session or send them in ahead of time.
Webinar 2 – Thursday, October 8, 2020
How To Start Your Own Business
New venture creation is the focus of many individuals in all walks of life. In many cases the specialization of a business venture will vary on the type of business that is being pursued. This webinar will help guide and direct you to creating a basic outline for a business. We will present ideas of how you can think like an entrepreneur and provide insights to re-frame thinking in order to maximize chances for success.
During this webinar we will discuss the importance of conducting market research, the importance of a business plan, and registering your business in the state of Michigan.
Webinar 3 – Thursday, October 15, 2020
How To Fund Your Business
During the life of most any business, the owner will need to seek out cash to help with its growth or to keep it going through a rough patch. So, planning how to fund a business is hardly a trivial or brief topic. Indeed, a thorough discussion would take much more time than we have here.
We will examine the different funding opportunities including friends and family, self-funding as an option for funding your business venture and will discuss terms like angel investors, cloud funding, venture capital, crowdfunding and bootstrapping. The SBA loans are also possibilities for individuals willing to find funding for a new business.
Webinar 4 – Thursday, October 22, 2020
Business Idea Bounce: Rapid Fire Q&A and Resources for Starting Your Business
In this last session of our virtual entrepreneurial information series, we will have a panel of experts, from WCC business faculty, Entrepreneurship Center (EC) staff, Small Business Development Center (SBDC) staff and an Entrepreneur-In-Residence from the EC to have a fun, virtual 'business bounce' hour; bring your ideas, questions and let the conversation start!
We'll be answering questions on how to start a business, where to go when you have a new idea, and on all things entrepreneurial. No need to be in business to join – learn how WCC can support you in starting, building or growing a business!