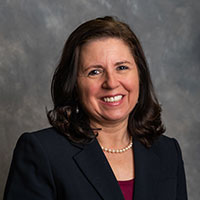 Lisa Bartley, MA, LPC
Business Relations Consultant
Michigan Rehabilitation Services
Lisa Bartley is a licensed professional counselor with nearly two decades of experience connecting qualified candidates with smart companies. After working for Detroit and Ann Arbor area non-profits and universities, Bartley started working for the State of Michigan as a Vocational Rehabilitation Counselor in 2015. Currently, she is a Business Relations Consultant serving Washtenaw and surrounding counties helping businesses build inclusive workforces.
She co-wrote How Hard Are You Knocking? Landing a job in a Rebounding Economy with Tim Augustine. She was recognized by Corp! Magazine with the Diversity Award and received the EP Maxwell J. Schleifer Distinguished Service Award for her "competitive spirit and effort on behalf of the disability community."
Bartley earned her Bachelor of Arts in communications and political science from the University of Michigan and her Master's Degree in counseling from Eastern Michigan University. Bartley is active in her community and serves as a board member of We the People Opportunity Farm.
Return to Skilling to Scale: Meeting the Challenge of Talent Demand within IT and Cybersecurity