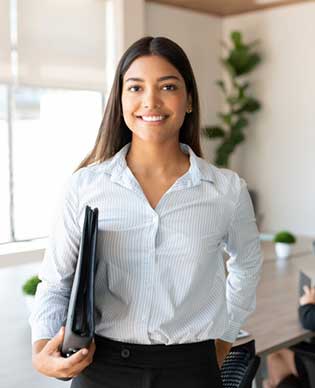 Learn more at an information session!
Sessions held Wednesdays 5:30 p.m. - 6:30 p.m. from March 23 to April 13.

Kick-Start Your Business Career!
17 months. 60 credits. 100% online.
Looking for a quick way to boost your career? Then the Accelerated Associate in Business degree program may be right for you!
Specifically designed for students with some work experience, this 17-month program allows you to quickly earn your degree and advance in your career or transfer faster to a four-year institution.
Students in this program will also have access to:
A dedicated success coach to help you stay on track and complete your degree.
Resources to lower the overall cost of attendance in this program.
Transfer support and information on accelerated bachelor programs at partner institutions. Learn more at wccnet.edu/articulation.
By definition, courses within accelerated programs are consolidated into shorter periods than the traditional 15-week semester. That compressed workload means you will do more in less time. Some students thrive in this fast-paced, deadline-driven environment; others are better suited to a more traditional academic schedule. We suggest you speak with an academic advisor to find out if an accelerated program/course is the right fit based on your learning style and outside obligations.
Learn more about accelerated courses
Jump into these careers with a Degree!
Office Supervisor
Production & Planning Clerk
Sales Representative
Learn more about career options at wccnet.edu/career-coach.
Questions? Contact Cassandra Calderon-Castro, Recruitment and Outreach Specialist at [email protected] or 734-973-3539.
Ready to get started?
Apply Now

---
Program Overview
Fall 2022
Session
Course
Credit
Hours
First six-weeks
ENG 111: Composition 1
4
BMG 140: Introduction to Business
3
Second six-weeks
BMG 207: Business Communications
3
MTH 160: Basic Statistics
4
Winter 2023
Session
Course
Credit
Hours
First six-weeks
ENV 101: Environmental Science 1
4
ACC 111: Principles of Accounting 1
3
Second six-weeks
ACC 122: Principles of Accounting II
3
ART 130: Art Appreciation
3
BMG 230: Principles of Management
3
Summer 2023
Session
Course
Credit
Hours
First six-weeks
ECO 211: Principles of Economics 1
3
COM 225: Intercultural Communications
3
Second six-weeks
ECO 222: Principles of Economic II
3
CIS 110: Intro to Computer Information Systems
3
PSY 100: Intro to Psychology
3
Fall 2023
Session
Course
Credit
Hours
First six-weeks
BMG 265: Business statistics
3
BMG 111: Business Law
3
Second six-weeks
AST 111: General Astronomy
3
BMG 250: Principles of Marketing
3
PHL 101: Intro to Philosophy
3
Total: 60 credit hours