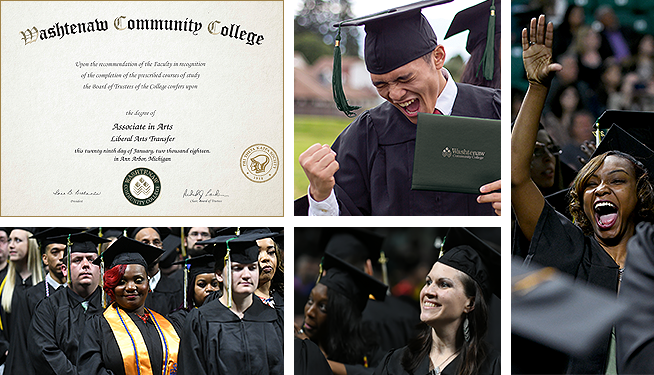 You're proud and you've worked hard. Now it's time to celebrate your achievement, thank those who matter to you most, and let your credentials go to work for you.
Washtenaw Community College has teamed with Parchment to offer an official digital version of your diploma or certificate.
It's fast, free, and sharable.
Celebrate your accomplishment with those who supported you along the way — your family, friends, and colleagues.
Share with potential employers to kick-start the next step in your journey or career.
How to Get It
Graduates will receive an email and text notification with instructions for electronically claiming their diploma.
Follow these simple steps:
Check your school email and text messages for the award notification.
Follow the link to set up your Parchment digital credentials account.
Share your digital diploma on Facebook and LinkedIn or download a secure .pdf version.
Your digital diploma will always be accessible through your Parchment account. You can login and download or share it again and again -- at no cost to you.
Your diploma will be sent to your email address on file. Update your personal email address.
What You Can Do with It
Share your Achievements
Easily share your digital diploma with employers with a secure and verified link
Share with family and friends on Facebook and LinkedIn
View or Download
View your digital diploma online at any time with permanent access
Download your digital diploma and save as a PDF
Serve as an Alternative to the Apostille
Many countries recognize digital diplomas. Parchment Award diplomas are supporting the needs of inter-national credentials.

Questions about digital diplomas? Email [email protected].
Questions about the digital diploma once you have received it? Email [email protected].