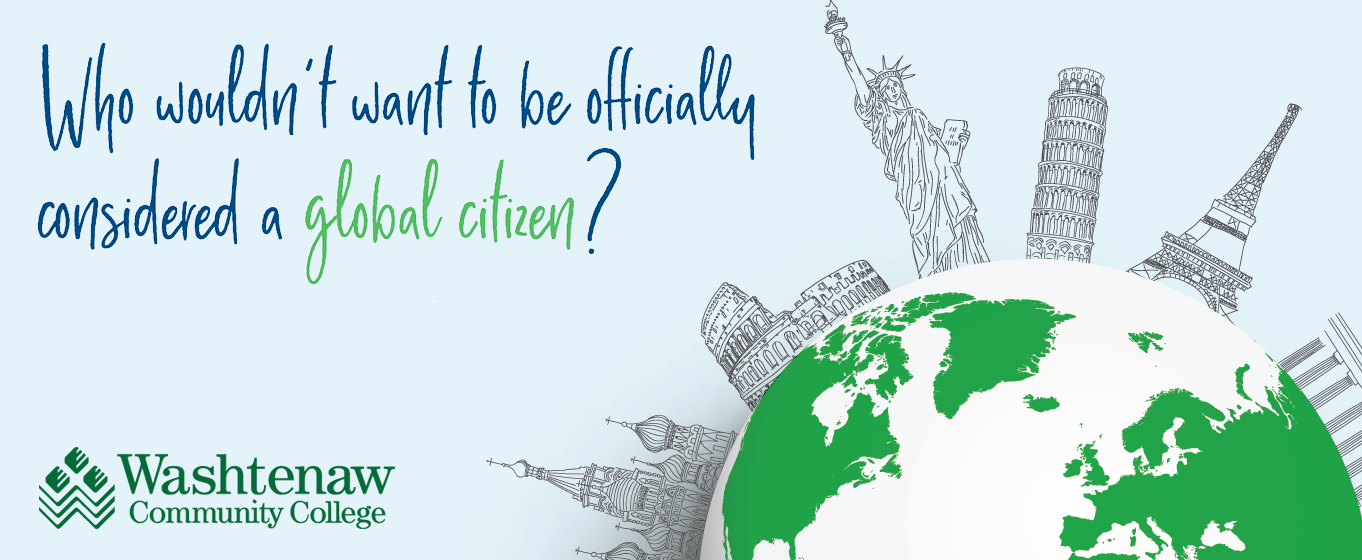 Attain 100 Total Points Minimum, must include points from all three categories
Global Content Courses (evolving list)
Complete at least 3 courses with a passing grade
10 points/course 30 points minimum
---
Courses

ANT 201*, 202, 205
ARB 111, 122
ART 130, 131, 143*, 150*
AST 111
BIO 200
CCP 220
CHN 111, 122
COM 225*
DAN 110, 180*, 210
DRA 170, 180*
ECO 280*
ENG 160, 170, 200, 212, 213*, 214*, 223, 224*, 242*
ENV 101*, 105*
FRN 101, 102, 111, 122
GEO 101*
GLG 104, 114
GRM 101, 102, 111, 122
GDT 101
HST 108, 121, 122, 123*, 150*, 215, 216, 230*, 234, 235*, 240*, 251, 255, 260, 270*
HUM 101, 102, 103, 120, 145, 146, 150*, 175*, 221*
MUS 180*, 185
PHL 101, 200, 205, 240, 245
PHO 103, 105**
PLS 211*, 260
PSY 270*
RAD 290**
SCI 101
SOC 205*, 207
SPN 101, 102, 111, 122, 201, 202, 211 224
YOG 101, 102
Other Special Topics study abroad course
***meets EMU Diverse World requirements
** study abroad course, not available every term
Global Experiences Abroad or At Home
25-50 points total
---
Study Abroad Experience

While at WCC
50 points:
Participate in a WCC or other study abroad experience
Prior Learning
50 points
-
Prior Living or Study Abroad
Prior or Current Domestic Learning
(should include 10 hours of interaction with individuals, artifacts, or ideas from a different culture)
25 points each -
Examples:
Hosting/Living with international student
WCC International Student Association or other intercultural club involvement
ESL Tutoring/Conversation Group Participation
Speaking at Student Activities Global Discussions
Volunteer/work at organization with international population or focus
Please obtain documentation of activity.
International Learning Activities
Attend at least 4 5 points/activity 20 points minimum
---
Events at/Sponsored by WCC -
Examples: Events sponsored through Student Activities (e.g. trips to festivals, plays, etc.) Washtenaw Community Concert Band, Ypsilanti Symphony, or other concerts at WCC Performing Arts Department or other WCC performances Faculty, student, or guest lectures on campus
Events in the Community -
Examples: Global Festivals (e.g. Russian Festival, Greek Festival, etc.) International art exhibits International concerts, dance, or theatre Foreign language film Lectures (EMU, U-M, community) International cuisine experiences (e.g. cooking class)
Places to look for events:
Ann Arbor Observer (
www.arborweb.com
)
Current Magazine (
www.ecurrent.com
)
Events at WCC, U-M, and EMU, are often free!
These are just examples—take advantage of all our campus and community have to offer!
Please obtain documentation of activity.
---
Frequently Asked Questions
So what is a Global Endorsement?
A Global Endorsement is validation or proof that you have demonstrated a certain level of global awareness and knowledge.
Why should I think about getting a Global Endorsement?
Who wouldn't want to be officially considered a global citizen? And it's always nice to have something to show for your hard work and all you've learned. But more than that, having official validation that you have attained a set of skills and knowledge about global issues and cultural awareness sets you apart from the crowd when you are applying for a job or transferring to another college or university. Understanding other cultures and international issues is becoming more and more important in our global economy, and will only give you an edge as you move forward in your education and career.
What do I have to do to get the Endorsement?
The Endorsement is point based, with 100 points needed for completion. Points are attained in three categories:

coursework;
global experiences (abroad or at home);
and international learning activities. In some cases, prior learning may apply, and many of the courses and activities may be ones you are already planning or interested in doing anyway. Why not get credit for them? As you complete pieces of the Endorsement each semester, submit evidence of completion so your progress can be tracked.

What do I get when I'm done?
When 100 points are reached, a Global Endorsement will be placed on your Washtenaw Community College transcript.
What do I do now?
Interested? Look over the requirements and let us know! Then get started on your global journey.
---
Questions? Want to get started?
Contact Julie Morrison, Executive Director of Institutional Effectiveness, Planning, and Accreditation, at [email protected] or 734-677-5010
---