Published on Apr 24, 2013 2:04pm by Janet Hawkins,
Two WCC students awarded Jack Kent Cooke scholarships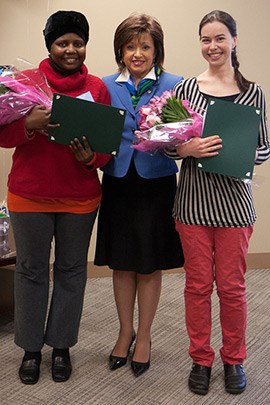 Two WCC students are among the 73 selected nationwide for a 2013 Jack Kent Cooke Undergraduate Transfer Scholarship. WCC President Rose B. Bellanca delivered the good news personally to Susannah Spence and Fatouma Abdoulaye.
"The Jack Kent Cooke Foundation Undergraduate Transfer Scholarship honors academic excellence by supporting outstanding community college students like Fatouma and Susannah," said Bellanca. "They are the first students from Washtenaw Community College to receive this prestigious honor. We are all so very proud of them."
The Jack Kent Cooke Foundation supports deserving community college students with up to $30,000 a year to help cover their educational expenses—including tuition, living expenses, books, and fees—for the final two to three years necessary to achieve a bachelor's degree at the nation's top four-year colleges and universities.
Spence, who grew up in Auburn, N.Y., has been accepted at the University of Michigan, where she will pursue studies in psychology and international studies. She would like to work as a clinical psychologist with immigrant populations from Latin American countries.
Abdoulaye, who moved to the U.S. from Niamey, Niger, expects to continue her studies at Wayne State University in molecular biology, with a goal of going to med school in the field of gynecology and eventually urogynecology. Some day she would like to return to Niger to provide care to women who are underserved.
"These two women were outstanding candidates and are examples of the exceptional students who walk through our doors every year," said Alexandra McCracken, the M-POD coordinator who assisted the students with their applications. "WCC has given them a great foundation."
Both Abdoulaye and Spence began their studies at WCC in 2011. They currently reside in Ypsilanti.