Published on Jul 10, 2013 12:05pm by Janet Hawkins,
WCC's Award-winning Huron River Review Now Available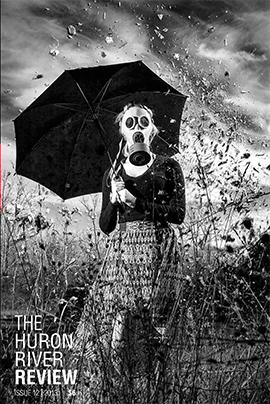 The latest issue of Washtenaw Community College's award-winning literary magazine The Huron River Review is now available for purchase at the college's campus bookstore. Kyle Johnson's edgy black and white cover portrait of a woman with umbrella and gasmask surrounded by floating debris is just a sample of the creative work showcased in the 160-page anthology.
Once again, poetry and photography dominate the annual publication, which features works by WCC talented students, faculty, and staff. Many submissions are artfully combined to create a unique collaborative collection. For example, a sketch by R. M. Frumkin serendipitously illustrates Summer Powers' equestrian-inspired poems, 'Riding a Horse,' 'Stagnant Doubt,' and 'Forever Horse.'
The Huron River Review debuted in 2002 and has received 54 awards to date, including individual prizes for many of its contributors.
"I think it's the sheer quality of the publication that makes it award winning," said Tom Zimmerman, faculty advisor and editor. "There are so many talented people producing stunning visual art and memorable prose that make it stand out for the judges. It is physically beautiful, and the printing and the color reproduction techniques get more sophisticated each year."
"This is an excellent example of the kind of enhancing college experiences we seek to provide for our students," said Dr. Rose B. Bellanca, WCC president. "The value of enrichment opportunities like this cannot be measured."
Copies of the 2013 Huron River Review are available at the WCC bookstore, first floor of the Student Center building, 4800 E. Huron River Drive. The cost is $6.