Published on Dec 4, 2015 2:56pm
WCC student improves career with advanced manufacturing training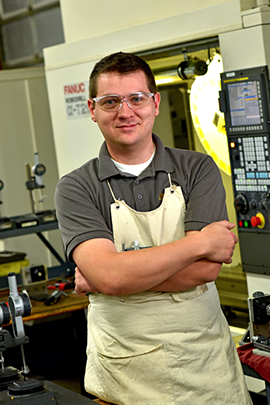 Justin Anderson, 35, loves his job. It's evident in the fact that he has worked for AB Hiller, a computer numerical control machining facility, for the past 12 years.
"You are constantly doing something different," said Anderson of his current work. "Every day you have a new problem that you have to deal with and you get to work with a lot of new equipment."
So when Anderson wanted to go even further in his career, he was diligent in his research to find the best school. "I looked at facilities at other schools and it was obvious that Washtenaw Community College was the most up-to-date with what was happening in the industry. Going to WCC was a pretty clear choice for me."
It's a choice that has paid off well. Since graduating with his associates degree in automation technology, Anderson has landed an apprenticeship with his company's engineering department. He also has plans to transfer to Wayne State University to pursue mechanical engineering.
Hands-on training
Anderson was able to put his hands-on training to good use during the college's annual Robotics Open House. It was a great way for himself and his fellow students to showcase all of their hard work and knowledge.
"Students from other schools and CEOs who were at the event were blown away by what's going on at WCC," said Anderson. "WCC instructors are great about incorporating the newest techniques and machinery. It really showed at that event. It's just another way the college does a great job at setting students up with what they find on the job."
Clear choice
And while it wasn't always easy, Anderson managed to make a full-time job and attending college fit into his schedule. It's an accomplishment to be proud of.
"The flexibility at WCC was great and the faculty is outstanding," he said. "Without a doubt, WCC prepared me to work in the industry."
Mechanical Engineer Technicians
Median Pay: $51,980 per year
Job Outlook: Employment of
mechanical engineer technician is
projected to grow 5 percent from
2012 to 2022.
Information from bls.gov