Published on Dec 4, 2015 2:55pm
WCC grad finds success in supply chain management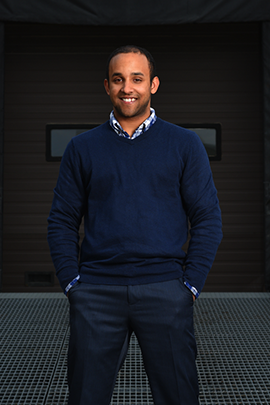 Going to college wasn't something Matt Spada saw in his future. After high school he worked odd jobs to get by, but soon realized the path he was on wasn't the right one for him.
"At first I didn't think that I was cut out for college," Spada, age 24, said. "But I knew that what I was doing wasn't what I wanted anymore. I needed a solid degree in something that would allow me to have a thriving career with tons of room for advancement."
Matt heard about the high quality instructor s at Washtenaw Community College as well as how easily classes transferred. Both were a huge draw in his decision making. "The faculty at WCC are knowledgeable, the college is conveniently located and the campus is beautiful. It is a great institution."
Choosing a career
And while finally committing to attend college may have taken a few years, Spada knew what he wanted to do once he got here.
"I've always been fascinated with the business world," he said. "I chose Supply Chain Management as a major because I like the idea of materials being transported from A to B in an efficient manner."
Matt first began his journey by taking business classes at WCC before transferring to Wayne State University in 2012. In May 2015 he graduated with a bachelor's degree in global supply chain management. He is now employed at ProTrans International, a third-party logistics company out of Novi, MI.
It's a dream job finally realized, thanks in part to WCC.
"I would tell anyone who is thinking of going to college that you don't have to automatically go to a four-year university," Spada said. "Take advantage of the affordable tuition you find at a community college as well as the great instructors."
Industrial Engineering Technicians
Median Pay: $50,980 per year
Job Outlook: Industrial engineering
is versatile because of its
wide applicability in many industries.
The growing emphasis on
cost control through increasing
efficiency is expected to sustain
demand for industrial engineering
technicians' services in most
industries, including nonprofits.
Information from bls.gov