January 5, 2018 Richard Rezler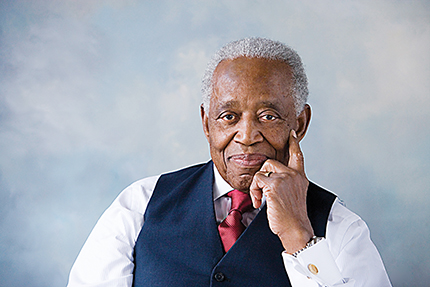 WCC President Dr. Rose B. Bellanca sent the following statement to college faculty and staff:
Dear colleagues,
The world lost a business legend, our community lost a giant philanthropist, Washtenaw Community College lost a great supporter and I – like so many others – lost a friend and mentor with this week's passing of John W. Barfield.
Mr. Barfield's ties to Washtenaw Community College date back to a Rotary Club of Ypsilanti meeting in 1965, where Dr. David Ponitz shared his proposal to turn an apple orchard into a community college that would become a business incubator for Washtenaw County.
"I never dreamed that Dr. Ponitz's vision would have such a profound impact on my life and the life of others," Mr. Barfield wrote in a 2016 letter for the college publication On The Record. "But I am grateful – and we are all better off – that it did."
Mr. Barfield lived a life suited for a Hollywood screenplay. The son of an Alabama sharecropper, he dropped out of high school to enlist in the Army. Upon discharge, he started working as a janitor at the University of Michigan. Through his ceaseless work ethic, he turned that experience into Barfield Cleaning Company, a successful commercial building maintenance company.
More businesses followed, including John Barfield & Associates, which ultimately became Bartech, a leading workforce management and staffing solutions provider to Global 500 firms. That company was created with a staff of six WCC students who updated engineering documents at a General Motors facility in Ypsilanti. Today it employs more than 3,000 and manages approximately 120,000 contract workers from its Southfield headquarters.
More recently, Mr. Barfield oversaw a 2010 effort that brought together WCC, the City of Ypsilanti and other partners to revitalize the historic Parkridge Community Center on Ypsilanti's south side. Our college's continued involvement at the center is important work that has grown from Barfield's vision.
Details on the funeral services planned for Mr. Barfield can be found here.
Tags: 2018, John W. Barfield, ousearch_News_2018