January 11, 2018 Richard Rezler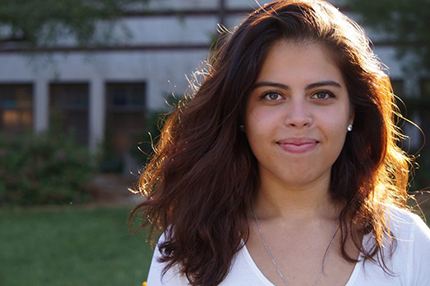 Washtenaw Community College student Veronica Centeno-Cruz is one of 12 cast members whose "otherness" is celebrated in a locally-produced documentary "Me, The 'Other'" set to premiere at the Michigan Theater in Ann Arbor on Monday, January 15.
"It was a very exciting experience, meeting many different people from different parts of life and the world," Centeno-Cruz said. "I feel this film will be truly amazing and everyone will be able to connect to the stories."
The documentary follows a diverse group of students living in Washtenaw County, all of whom are challenged by social obstacles. The Michigan Theater describes the film as being about "the flight of the human spirit once the cloud of prejudice is removed."
Growing up, Centeno-Cruz's mother had serious health problems so she was temporarily sent to live with family in Puerto Rico. She eventually returned to the Ann Arbor area and graduated from Huron High School despite never feeling accepted by her fellow students.
"I knew the only way I would make it out of poverty as a minority was through schooling and working hard to become more," Centeno-Cruz writes in her cast bio on the "Me, The 'Other'" website. She is completing a transfer program at WCC with plans to study occupational therapy at Eastern Michigan University.
Former WCC student Christina Shannon, currently enrolled at EMU, is also featured in the documentary. Shannon is a 64-year-old trans-woman who was fired from a long-time construction job and overcame battles with homelessness, alcoholism and suicidal thoughts after her transition in 2010. She's now studying to be a social worker.
The documentary was co-produced by New York film director and producer Shidan Majidi and University of Michigan School of Dentistry faculty member Shahrzad Mirafzali. It includes an original score and original songs by Ann Arbor musicians.
"I hope this movie shows the youth and everyone in the Ann Arbor / Ypsilanti community that even though we are all faced with things in life that can push us down, the best thing we can do is work hard and stay strong through it all," Centeno-Cruz said. "Because, in the end, you will be proud of yourself and also inspirational to others."
Tickets for the 7 p.m. world premiere start at $5 and are available on the Michigan Theater website.
Tags: 2018, Occupational Therapy, Theater, Veronica Centeno-Cruz, ousearch_News_2018