January 12, 2018 Kelly Gampel
Martin Luther King, Jr. Day celebrated at WCC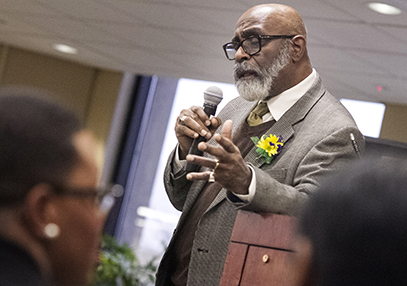 The legacy of Dr. Martin Luther King Jr. – who has been dead longer than he was alive -- crushed social norms and continues to challenge modern society.
On Jan. 11, Washtenaw Community College honored King through musical performances, spoken word and addresses ahead of the national holiday that commemorates the late activist's birthday on Jan. 15.
"Freedom is the strongest seven-letter word in the human vocabulary, and I'm sure Dr. King would like us to walk down the road … so we know just exactly what he had to go through to get here," said Thornton Perkins, WCC history faculty member and keynote speaker at the event.
King dedicated 13 years of his 39-year life to fighting social injustice and stirring others to join him in the civil rights movement – an act that focused on ending legalized racial segregation – and "changed the course of this country," Perkins explained. King first appeared as a leader on the scene in December 1955 during the Montgomery Bus Boycotts, where blacks refused to ride city buses following the arrest of Rosa Parks, Perkins said.
Perkin's overarching message Thursday was freedom; freedom from want or fear, and freedom of expression and freedom of religion. He pointed to several examples in history where freedom was a poignant struggle but critical markers in ending inequality.
"When I look back in history – I look back on it because you get the chance to look back in the review mirror - Dr. King is one of the most courageous men I have ever seen in my life," Perkins said. The 72-year-old instructor witnessed King's power in 1966 while taking part in a march from Memphis, Tennessee to Montgomery, Alabama.
At Washtenaw Community College, the college is a "rich tapestry" of diversity, WCC President Dr. Rose B. Bellanca remarked.
"At Washtenaw, I'm proud to say that differences are not just accepted, we celebrate them. We realize our differences make us a rich society and a rich community here at our college," Bellanca said.
WCC Dean of Student Access, Success, Equity & Inclusion Clarence Jennings Jr. closed the 90-minute celebration of King's life. The theme was "Stay Ready: Stay Woke," inspired by one of King's last speeches, I've Been to the Mountaintop.
King was assassinated April 4, 1968.
"'Stay woke' means that you're not only conscious of the racial and social injustice in America, but you're willing to stand up and fight those injustices," Jennings explained. "It is not enough to just like a post or tweet a video. As a society, we must stand ready to fight for the rights of all."
In King's mountaintop speech, he states, "One of the great liabilities of history is that all too many people fail to remain awake through great periods of social change."
Tags: 2018, Diversity, Martin Luther King Jr., ousearch_News_2018