January 31, 2018 Richard Rezler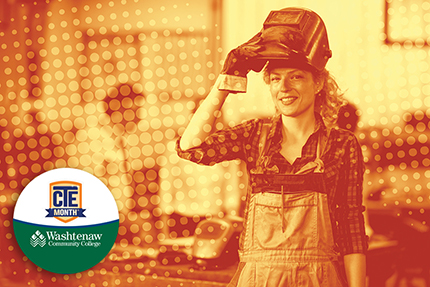 Joining a national movement to celebrate Career and Technical Education, Washtenaw Community College will host a number of events in February to highlight the value and accomplishments of CTE programs on our campus and across the country.
The CTE Month awareness campaign engages K-12 and two- and four-year college educational systems to introduce students to CTE programs that directly prepare them for high-wage, high-demand careers in multiple careers, such as health care, information technology, advanced manufacturing and many more.
"In addition to increasing exposure and knowledge about CTE around the campus and the community, another focus during the month is to inform our current students of the value in learning cutting-edge skills that will position them for limitless career opportunities once they have earned their certificate or associate degree in a CTE program," said Anthony Webster, the college's CTE Student Success Specialist.
CTE encompasses many different types of education, from classroom learning to certification programs to work-based learning opportunities outside the classroom. Advance CTE, a national non-profit representing secondary and postsecondary CTE education leaders across the country, estimates that 12.5 million high school and college students are enrolled in CTE throughout the United States. Its research shows the high school graduation rate for CTE concentrators is about 90 percent, or 15 percent higher than the national average.
WCC's planned CTE events include:
Monday, February 5: The college will join community partners at the Parkridge Community Center in Ypsilanti at 10 a.m. to discuss CTE and ways to better engage youth and adult community members in Career and Technical Education at WCC.
Friday, February 9 and Saturday, February 10: WCC is hosting regional state Skills USA competitions. High school students from around southeastern Michigan participating in Auto Service, Auto Body and Welding competitions in the college's state-of-the-art labs will have an opportunity to learn more about WCC's CTE programs.
Tuesday, February 13: The college is inviting K-12 students and their parents, our own campus community and community members to its "Women in Information Technology Night," which begins at 5:30 p.m. in Towsley Auditorium. The evening begins with a panel discussion on the urgency to expose more women to Information Technology. The panel will include WCC computer science faculty members Jin Bai and Michael Galea, along with Dr. Barbara Ciaramitario, a professor of Information Technology and Cyber Security at Walsh College. The discussion will be followed by a viewing of the movie Hidden Figures. This event is free to all.
Thursday, February 15: The college plans a CTE-themed outreach visit to the Harriet Street Community Center in Ypsilanti from 11 a.m. to 1 p.m. to engage the center's users in discussion around CTE and programs that could suit their interests and passions.
Webster, along with representatives of several campus departments, will operate a "CTE Awareness Hub" from noon to 1 p.m. in multiple locations on campus throughout the month to provide CTE resources and answer questions about programs at WCC. Dates and locations of the hubs: Thursday, Feb. 1 (Student Center); Monday, Feb. 5 (Occupational Education Building); Thursday, Feb. 8 (Technical and Industrial Building); Wednesday, Feb. 28 (Student Center).
Washtenaw Community College offers degrees and/or certificates in 101 programs – ranging from 3D Automation to Welding – that are considered occupational by the State of Michigan.
Tags: 2018, Career and Technical Education, ousearch_News_2018