February 22, 2018 Richard Rezler
Three weeks of apprenticeship readiness training leads to entry-level positions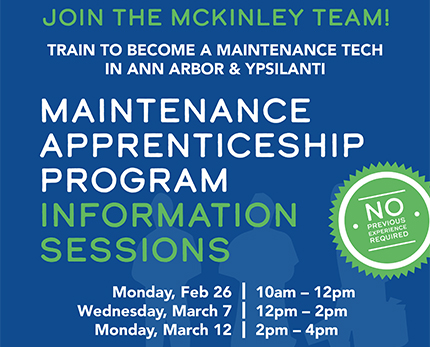 McKinley, Inc., one of the nation's largest residential and commercial real estate development companies, has called upon Washtenaw Community College to help train building maintenance professionals for employment at the company's apartment and housing units around the Ann Arbor/Ypsilanti area.
Applicants are sought to fill a three-week paid Maintenance Apprenticeship Program that begins on Monday, April 16. The training program was designed by the WCC Workforce Development department and will be led by WCC instructors on-site at McKinley properties.
Those selected to join the program will transition into a maintenance tech role with McKinley upon successful completion. The starting wage for the positions is approximately $13.50 per hour, plus a generous benefits package for those who meet minimum qualifications.
"McKinley is excited to join with Washtenaw Community College for our Maintenance Apprenticeship Program," said Will Epps, Associate Vice President of Operations at McKinley. "This partnership will allow us to cultivate and grow talent in our workforce and, at the same time, give back to our community that we are invested in by providing education and careers."
Those interested in joining the program should attend one of three informational sessions at the Glencoe Hills Apartments clubhouse, located at 2201 Glencoe Hills Drive in Ann Arbor.
The two-hour informational sessions will be held on Monday, February 26 (10 a.m. to noon), Wednesday, March 7 (noon to 2 p.m.) and Monday, March 12 (2 to 4 p.m.). Each session will cover "A Day in the Life of a Building Maintenance Professional," including a video presentation, a panel of industry experts, a tour of a McKinley property and details on compensation and benefits.
The program includes 20 hours of WCC instructor-led classes per week that will focus on grounds maintenance, appliance repair, drywall installation and patching, basic plumbing and electrical repair and painting.
"Our Workforce Development team has put together 60 hours of professional-level classroom instruction that we're eager to take out to McKinley properties," said Niko Dawson, WCC's Dean of Economic and Community Development. "We believe we've put together a program that will develop the solid roster of maintenance professionals that McKinley needs to provide high-quality maintenance services to its residents and give job seekers in our community a jumpstart to finding a long and successful career."
Any interested candidate:
Must be 18 years old or able to obtain a work permit.
Must have access to a vehicle and have a valid driver's license
Does not use illegal drugs and must pass a drug screen and background check
Must have good fine motor skills, like using hand/power tools and have the willingness to learn on the job
Must enjoy providing excellent customer service for community members
Must adhere to McKinley dress code policies, which does not allow visible tattoos or piercings
For more information or to ask questions about the Maintenance Apprenticeship Program, contact a program representative at 734-747-2936.
---
Media contact: Susan Ferraro, WCC Director of Media Relations, 734-677-5295, [email protected]