March 9, 2018 Richard Rezler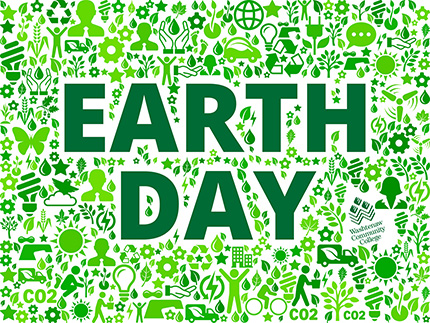 Washtenaw Community College will hold its annual Earth Day celebration on Thursday, April 12 with presentations and activities provided by local non-profit, business and government organizations, as well as WCC departments. All activities are free and open to the public.
The event runs from 10 a.m. to 2 p.m. on the first floor of the Student Center. A live raptor presentation by the Leslie Science and Nature Center will take place at 11 a.m.
Information about an array of solutions to today's environmental challenges will be presented, including:
Greening Your Ride: Learn how to cut your expenses and your commuting carbon with bicycles, hybrid bicycles (free test rides!), electric cars, hybrid cars, busing and walking.
Sustainable Communities: Build a resilient community, make friends and influence congressmen, grow a community garden, solarize your home, support your local economy with farmers markets.
Healthy Food & Lifestyle Choices: Learn many ways to keep yourself, your family and your community healthy by growing your own food, choosing a healthy diet, exercising, and quitting your fossil fuel addiction.
Our Amazing Earth: Prevent nature deficit disorder, enjoy the outdoors, understand the science behind the intricate balance of nature, protect the Great Lakes, help green our campus, find a green career.
Recycling & Waste Reduction: Put worms to work for you; discover a trove of inexpensive books, kitchenware, sporting goods, tools and building materials; learn where to harvest urban lumber; learn about WCC's award-winning recycling program.
Organizations scheduled to participate include: Committee to Ban Fracking in Michigan, Gene Butman Ford, City of Ann Arbor Natural Area Preservation, Cobblestone Farm Market, Great Lakes Fishery Commission, H.E.H. Human Electric Hybrids, Huron Clinton Metroparks, Leslie Science and Nature Center, National Wildlife Federation, Recycle Ann Arbor, Southeast Michigan Land Conservancy, VegMichigan, Friends of the Border-to-Border Trail, WCC Barnes & Noble Bookstore, WCC Sustainability Council and more!
For more information about how WCC works to preserve Earth's resources, visit sustainable.wccnet.org.
---
Media contact: Susan Ferraro, WCC Director of Media Relations, 734-677-5295, [email protected].
Tags: 2018, Earth Day, Sustainability, ousearch_News_2018