March 9, 2018 Richard Rezler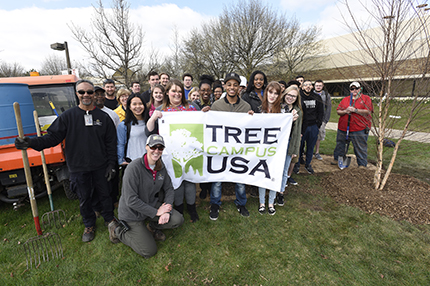 Lon Horwedel Students helped the Landscape and Grounds team plant a river birch tree in front of the Morris Lawrence Building the day after the college received Tree Campus USA certification last year.
For the second consecutive year, Washtenaw Community College has earned the distinction of Tree Campus USA from the Arbor Day Foundation.
"Our goal is to achieve the Tree Campus USA designation every year, and to continue caring for the campus environment indefinitely," said WCC Landscape and Grounds Manager Holly Herman. The Landscape and Grounds department at WCC inventories and maintains approximately 1,600 trees, a total that does not include the natural forest areas located outside the campus' 147 acres of maintained grounds.
Tree Campus USA, an Arbor Day Foundation program, is celebrating its 10th anniversary this year. The program honors colleges and universities for effective campus forest management and for engaging staff and students in conservation goals.
WCC achieved the title by meeting Tree Campus USA's five standards, which include maintaining a tree advisory committee, a campus tree-care plan, dedicated annual expenditures for its campus tree program, an Arbor Day observance and student service-learning project. Currently there are 344 campuses across the United States with this recognition.
Herman says her favorite aspect of the Tree Campus USA program is the active participation by students that comes with the required Service Learning Project.
"I love giving students the opportunity to get to know some of the amazing team members in our Landscape and Grounds Department and, at the same time, learn a little about the importance of trees and proper tree care," she said. "We are currently exploring different ways to encourage student involvement for this year's Student Learning Day, and for Tree Campus USA applications in subsequent years."
The Arbor Day Foundation has helped campuses throughout the country plant thousands of trees, and Tree Campus USA colleges and universities invested more than $48 million in campus forest management last year. More information about the program is available at arborday.org/TreeCampusUSA.
---
Media contact: Susan Ferraro, WCC Director of Media Relations, 734-677-5295, [email protected].
Tags: 2018, Arbor Day, Landscape and Grounds, Sustainability, ousearch_News_2018