March 22, 2018 Richard Rezler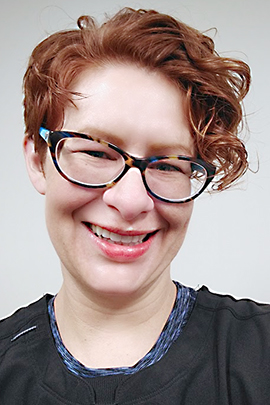 Carmen Jongsma, a graduate of Washtenaw Community College's Dental Assisting program, was recently selected as one of eight national scholarship recipients by the American Dental Assistants Association and the Dental Assisting National Board, Inc.
The scholarship is awarded annually to dental assistants who demonstrate a strong commitment to career growth and lifelong learning in the dental assisting profession. Jongsma says she'll put the scholarship money toward a student loan and to pursue continuing education opportunities.
A resident of Caledonia who was already working as a dental assistant in nearby Grand Rapids, Jongsma completed the Pathway II Dental Assistant certificate program at WCC during the Fall 2017 semester. Pathway II is an advanced standing option for dental assistants with two or more years of experience who want to become a state-licensed Registered Dental Assistant (RDA).
"Carmen was a very bright, ambitious student who excelled in the Pathway II program," said WCC Dental Assisting Program Director Kathy Weber. "When I visited her in her office, all of the doctors and staff had nothing but very positive comments about Carmen, her work ethic and dental assisting skills."
After a two-day, on-campus workshop at the beginning of the semester, Jongsma returned home to take online courses and complete assigned class projects under the supervision of her licensed dentist employer.
She's now a Team Lead with the dental assistants at Cherry Health Services in Grand Rapids, where she has worked for three years. She works chairside with patients and also oversees day-to-day operations of the clinic.
"I greatly appreciate the dental assisting instructors at WCC. They were exceptional in their teaching and it was a pleasure to learn from them," said Jongsma, who started pursing a career in dental assisting at the age of 36. "I am going to continue to encourage my co-workers to pursue licensure by enrolling in the RDA Pathway II program. Education is a life-long activity and it's never too late to expand one's skills."
Tags: 2018, Carmen Jongsma, Dental Assisting, ousearch_News_2018