April 24, 2018 Richard Rezler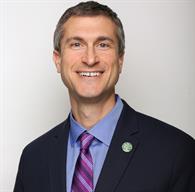 In recognition of national Community College Month, Ann Arbor mayor Christopher Taylor issued a proclamation today urging citizens to recognize and appreciate the contributions Washtenaw Community College makes to the community.
The proclamation notes that WCC not only instructs more than 25,000 credit and non-credit students each year, but also offers other programs and services that benefit the entire community, employs nearly 1,500 full- and part-time faculty and staff, and has an estimated economic impact of $375 million.
WCC President Dr. Rose B. Bellanca will present the proclamation to the WCC Board of Trustees at its meeting today.
The full text of the proclamation:
PROCLAMATION
Honoring Washtenaw Community College
During National Community College Month
April 2018
WHEREAS, President Ronald Reagan, in 1986, penned the first National Community College Month proclamation, commending the enormous contributions two-year colleges make "to the strength, vitality, and prosperity of our Nation" by providing "educational opportunities at costs and locations accessible to all who are qualified"; and
WHEREAS, An estimated 12.1 million students are today enrolled in credit and non-credit programs at 1,103 affordable and accessible community colleges across the nation; including more than 25,000 at Washtenaw Community College during the past academic year. That total includes 2,170 first-generation college students, 1,013 single parents, 643 veterans and 469 international students enrolled in credit classes; and
WHEREAS, Washtenaw Community College is continually among the top community colleges in the state based on performance metrics that include enrollment, affordability, student success and economic impact; and is listed among the top 50 community colleges in the nation for online learning programs by multiple ranking organizations; and
WHEREAS, For more than 50 years, Washtenaw Community College has offered services that benefit our entire community, including: training for job seekers and retraining for those already employed; more than 200 articulation agreements with four-year colleges and universities; Adult Transitions programs for those seeking to acquire a GED or otherwise upskill; customized training for local companies; scholarships, grants and other sources of assistance for students who need financial assistance to complete their education; support services that help students stay in school; and free classes for city residents over the age of 65; and
WHEREAS, Washtenaw Community College has an estimated overall economic impact of $375 million on our city and county, employs nearly 1,500 full- and part-time faculty and staff members, and hosted 3,863 community events and 82,139 visitors on its campus in 2017.
NOW THEREFORE, I, Christopher Taylor, Mayor of Ann Arbor, Michigan, do hereby proclaim April 24, 2018 the day on which we celebrate Washtenaw Community College, and urge all citizens to recognize and appreciate the outstanding contributions to our community made by this extraordinary institution.
I hereby set my hand and seal
This 24th day of April, 2018
Christopher Taylor
Mayor of the City of Ann Arbor
Tags: 2018, Ann Arbor Mayor, Christopher Taylor, Community College Awareness Month, ousearch_News_2018