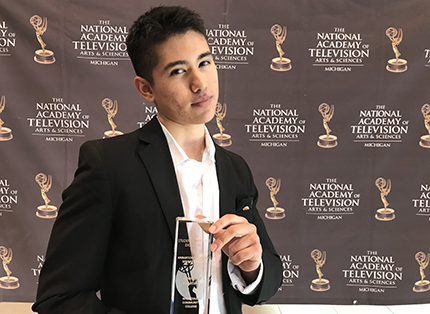 In its 40th year of recognizing student excellence, the Michigan Chapter of the National Academy of Television Arts & Sciences brought its annual ceremony to the stage of Towsley Auditorium at Washtenaw Community College.
At the Michigan Regional Student Production Awards Ceremony on April 29, two WCC Digital Media Arts students accepted awards on their home turf.
Steven St. John won in the Long Form – Non-Fiction category for a story about his brother, former University of Michigan running back Drake Johnson, titled Drake Johnson: The Triumph and Tragedy of Michigan Man. St. John was also nominated in the Writing category for a comedic narrative project titled The Day I Died.
Reznor Angel won the Animation/Graphics/Special Effects category for his title sequence, Changing Creatures.
Angel's entry can be viewed here. St. John's entry cannot be shared due to legal issues related to the story. He hopes to make it available to the public at a later date.
"Both (winners) have the common traits of being highly dedicated, huge work ethics, and creative skills and imaginations," said WCC Digital Media Arts faculty member Matthew Zacharias. "Both of those projects definitely deserved to win because they were above and beyond student-level work. Both were professional projects, indistinguishable from something you'd see on the air."
St. John, 34, moved back to Ann Arbor and returned to school after a 12-year career as a professional breakdancer in Chicago. With an interest in videography from his days of filming breakdancing events and creating promotional videos, St. John followed up on a tip from a friend to check out the Digital Media Arts program at WCC.
"I started taking classes on the recommendation of a friend and they were awesome," he said. "I've learned much more than I expected."
St. John expects to graduate with an Associate in Arts Degree in Film Studies next year. He says the 22-minute documentary about his brother began as a solo class project and grew into a final product that "represents a couple hundred hours of work, easily."
Angel, a 21-year-old from Ann Arbor, put together his After Effects movie title sequence as a final project for a Video Graphics course in winter semester. Unhappy with an early effort, he scrapped a month's worth of work and started fresh on the award-winning black-on-black motif.
"I'm really passionate about title sequences and how they can set the mood and make you hold your breath," said Angel, who is already lining up professional freelance work.
Angel recently graduated from WCC with an Associate in Arts Degree in Digital Video Production, but has returned to campus to take a 3D Animation course this Spring/Summer semester that he believes will take his graphics work to a higher level.
With St. John and Angel's accolades, WCC students have won 21 student production awards over the past seven years while competing primarily against students from four-year college and university programs.
Zacharias said hosting the event on the WCC campus for the first time was a success. Nominees from around the state in both the high school and college/university categories visited campus while WCC's 11 nominees were able to stay close to home.
"Our students don't always get to attend the event, so having it on campus with all of our nominees front and center was terrific," Zacharias said. "It's something they'll always remember."
WCC's other 2018 award nominees included:
Jalen Reives, Beat to the Gods, Arts and Entertainment/Cultural Affairs
Kyle Wagner, 1,000 Flowers, Short Form Non-Fiction
Eileen Meier, Seizure Girl, Long Form Non-Fiction
Colton Fromhart, Ypsilanti Auto Museum, Commercial
Jacob Corbitt, Show Open for WCC Digital Video Program Festival, Animation/Graphics/Special Effects
Griffin Bergers, Wear Me, Director
Trey Sarmento, The Infirmary, Director
Sam Grima, Afflicted, Editor
Lexi Morgan, Untitled, Editor
A complete list of the 2018 high school and college/university awards handed out during the ceremony at WCC are available at the NATAS-Michigan website.
For more information about the Digital Media Arts program at WCC, visit departments/wccnet.edu/dma.