May 23, 2018 Richard Rezler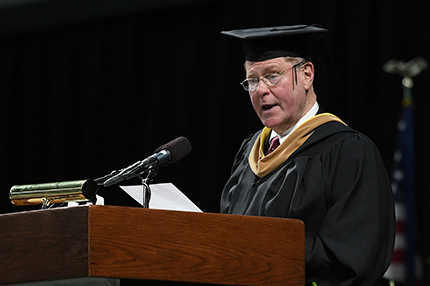 As the Washtenaw Community College class of 2018 heads out to make its mark on the world, WCC Foundation Board of Directors chairman Jamie Buhr asked the recent graduates to first consider making a difference for current and future students at the college.
During his address at WCC's 2018 Commencement Ceremony on May 19, Buhr asked graduates to consider donating $20.18 to the WCC Foundation's Student Emergency Fund and announced he's pulled together a group of local philanthropists who will match every donation.
Donations made by family and friends in the name of a 2018 graduate will also be matched. To make a Class of 2018 donation to the WCC Foundation Student Emergency Fund, visit wccnet.edu/foundation/give and enter "Class of 2018" in the gift designation box.
The Student Emergency Fund provides WCC students faced with financial emergencies a maximum $500 award to help with things like shut-off notices, unexpected car repairs or medical expenses. The ultimate goal is to keep students in school who would otherwise consider dropping out because of their financial situation.
"Statistics show we are losing students at an increasing rate, often as a result of short-term, temporary lack of funds for modest expenses like transportation, childcare, books, and even food," Buhr told the audience gathered at the Eastern Michigan University Convocation Center. "We launched the Student Emergency Fund to cover those temporary expense shortfalls so that a student does not have to leave school in the middle of a semester."
What difference can a $20.18 donation make? Buhr broke down the math: If 1,000 of the roughly 3,500 students who earned an Associate Degree or certificate from WCC in 2018 made that small donation – and each of those donations is matched – the WCC Foundation would be able to provide Student Emergency Fund payments of $500 to 80 students.
"That's 80 students we can keep in school and help get to the finish line," said Buhr, the owner of JD Buhr & Company, a corporate financial advisory firm in Ann Arbor.
Understanding many graduates have tight financial budgets, Buhr asked those who cannot afford to make a $20.18 donation to keep in contact with the college through the WCC Alumni Association.
"If you can't do it, we totally understand. If it's not in the budget, please don't do it," Buhr said. "But, you can join the WCC Alumni Association, stay in touch and maybe it will be in the budget next year and beyond."
To join the WCC Alumni Association, visit wccnet.edu/alumni/join.
Tags: 2018, Commencement, Graduation, Jamie Buhr, Student Emergency Fund, WCC Foundation, ousearch_News_2018