June 4, 2018 Richard Rezler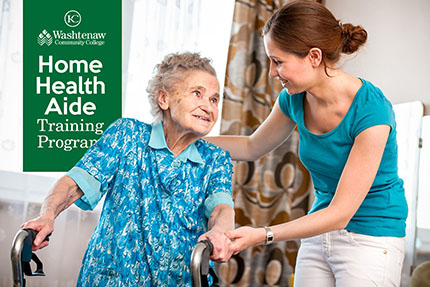 The Workforce Development department at Washtenaw Community College and Kennedy Care, a home health care service provider headquartered in Ann Arbor, have teamed up to create a two-week Home Health Aide training program.
"This program is the first of its kind in the county," said Kennedy Care owner and CEO David Kennedy. "My hope is that the program will serve as a starting point for many future careers in health care while bringing comfort and love to homebound individuals in our community."
The 40-hour program is designed to provide the training necessary to prepare students to perform basic care in a home care setting. Completion qualifies students for entry-level employment in the Home Health Aide field, which is expected to grow exponentially over the next decade.
According to U.S. Department of Labor statistics, the number of home health aide jobs is expected to increase 41 percent by 2026 – a growth that translates to nearly 1 million new positions.
"We're excited to offer this program because we already have a number of agencies in contact with us that are actively looking to hire students who've completed this kind of training," said WCC Dean of Economic and Community Development Niko Dawson.
The first training program will take place July 16-27 and tuition is $450. The first week of training will include 20 hours of lecture and lab-style learning. The second week will include 20 hours of experiential, hands-on learning with families receiving care through Kennedy Care, with the assistance of caregiver supervisors.
Topics include the role of a Home Health Aide, professional behavior, customer service, infection control, basic personal care measures, safety considerations, and effective communication techniques.
"The program will provide participants with amazing visibility to our clients and management team," said Kennedy Care President Jeremy Lindlbauer. "The hope is Kennedy Care can hire and develop those interested in the health care profession while providing a flexible and rewarding work environment."
Those interested in participating in the class should attend one of four information sessions:
WCC will host information sessions on Tuesday, June 5 (3-5 p.m.) and Wednesday, June 13 (5-7 p.m.) in the Technical & Industrial Building on the WCC main campus.
Kennedy Care will host an information session on Thursday, June 7 (10 a.m.-noon) at its office, 150 S. Fifth Ave., Suite 205, in Ann Arbor.
An information session will be held at the Michigan Works! office in the Harriet Street Center, 332 Harriet Street in Ypsilanti, on Monday, June 18 (11 a.m.-1 p.m.).
To be considered for the training course, participants must be 18 years of age, have earned a high school diploma or GED, and must pass a basic screening process. For more information about the program, call 734-677-5060.
Tags: 2018, Home Health Aid, Workforce Development, ousearch_News_2018