June 12, 2018 Richard Rezler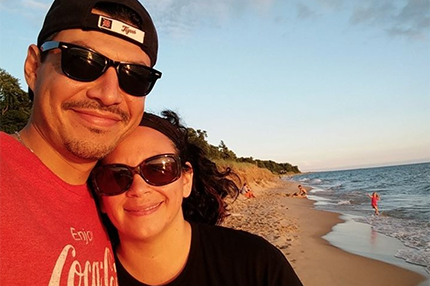 Two Washtenaw Community College photography students have been selected to participate in Documenting DETROIT, a juried community photojournalism fellowship that showcases emerging and early-career photographers' work.
Elisa Limon and Janice Milhem are both non-traditional students taking photography classes through WCC's Digital Media Arts department to fine-tune a creative passion. They are two of 20 fellows selected to participate in the third summer of the Document Detroit initiative.
"I was quite amazed that I was selected to be part of this group," said Limon, 38, who lives in Belleville and works full-time as a foster care specialist for the State of Michigan Department of Health and Human Services. She said she started taking photography night classes three years ago "to get art back into my life."
As part of the application process, photographers submit a portfolio and are asked to pitch a story idea that will contribute to the project's goal of creating a documentary record of Detroit. Those chosen to participate are paired with nationally acclaimed photojournalists, editors, curators and documentarians to hone their skills. The fellows' work is showcased via public art, exhibitions and publications.
Limon will spend her summer focusing a camera lens at another artistic side passion, folklórico. She'll follow three Mexican folk dance groups in Detroit – the dancers, the teachers and the parents.
Milhem is a mostly self-taught photographer who had a career in sales and marketing. Now in her mid-50s, the Ann Arbor resident focuses on her freelance photography business, Milhem Images. Over the past year, her work has been selected for exhibition in Detroit, Philadelphia and Vermont and a personal documentary project on her aging mother won an American Society of Media Photographers Best of Show award.
Milhem met the rest of the cohort of Documenting DETROIT fellows for the first time last week.
"I felt like I was 20 years older than anyone else in the group, and half of them are graduates from the College for Creative Studies photography program," she said. "I wasn't intimidated, but it really challenges me to come up with something great!"
Her focus this summer will be on "Detroit wheels" – a look at the personalities and cultures that participate in bicycle groups, skate parks and roller derby teams in Detroit.
For more information about photography courses at WCC, visit wccnet.edu/dma.
For more information about Documenting DETROIT, visit documentingdetroit.org or the group's Facebook page.
Tags: 2018, Elisa Limon, Janice Milhern, Photography, ousearch_News_2018