June 12, 2018 Richard Rezler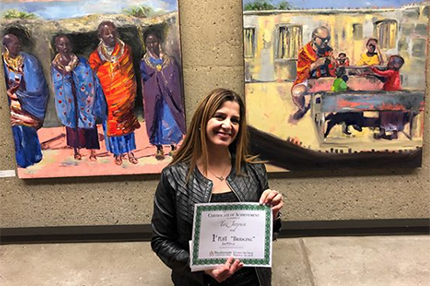 When Therese Basha Jarjoura won first place at the Washtenaw Community College Student Art Show in March, she received inquiries from people interested in purchasing her prize abstract painting, titled "Bridging."
Too self-effacing to place monetary value on her own work – which to that point had only been a personal hobby – Jarjoura instead replied that the work was not for sale. Many fledgling artists face the same dilemma, which is why the WCC Arts and Sciences Division teams with the Entrepreneurship Center on campus to offer art students "Pricing Your Art" workshops.
Jarjoura didn't attend that workshop, but received a lesson in value months later at a charity auction. It was there that enamored bidders established a monetary value for her work themselves. And it was higher than she anticipated.
"Not a little higher," she says. "A lot higher."
Her 30-inch by 40-inch acrylic on canvas abstract painting titled "Mary's Well" went up for bid at the Arab-American Friends of Nazareth Gala Auction in Niagara Falls, Ontario, Canada. That work was similar in style to her art show-winning painting.
The opening bid: $1,200. The winning bid: $11,500.
Along with being appreciative with the winning bidder's admiration of her art, Jarjoura was delighted the money will benefit Saint Vincent de Paul hospital in her hometown of Nazareth, Israel. Mary's Well is an iconic location in Nazareth.
Jarjoura studied architecture and dabbled with painting before moving to Ann Arbor five years ago, at the age of 45, after her second marriage. She saw painting as a way to become involved in her new community.
"I used to do some art overseas, but just for fun," she said. "When I got here, I took some classes and then decided to start taking it more seriously. I thought that if I was going to spend time and money, it should be toward a degree. Now, WCC has become like a second home for me."
Jarjoura is pursuing an associate in Art in Fine Arts Degree at WCC, a transfer degree designed to be the first two years of a Bachelors of Fine Arts degree.
To see examples of Jarjoura's work, follow @therese_basha on Instagram.
Tags: 2018, Fine Arts, Therese Basha Jarjoura, ousearch_News_2018