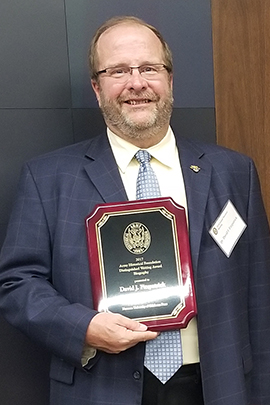 Washtenaw Community College social sciences faculty member Dr. David Fitzpatrick was honored with a 2017 Army Historical Foundation Distinguished Writing Award at the organization's annual meeting this week in Arlington, Virginia.
Fitzpatrick, a history instructor at WCC since 1996, was honored in the biography category for his book, Emory Upton: Misunderstood Reformer. In all, six books and three articles received recognition for outstanding achievement in writing on U.S. Army history.
"I am greatly honored that the Army Historical Foundation, an organization whose mission it is to maintain the historical memory of the United States Army, has selected Misunderstood Reformer for this award," said Fitzpatrick. "It's hard to imagine any other award that would mean as much to me."
Fitzpatrick is a leading authority on Upton, a Civil War-era U.S. Army General widely considered to be one of America's most influential military thinkers. Fitzpatrick first researched Upton for his doctoral dissertation in 1996 and continued to explore his life and military contributions through the publishing of articles in the Journal of Military History and, ultimately, the release of Misunderstood Reformer.
Misunderstood Reformer is the first full biography written about Upton in nearly 50 years. In it, Fitzpatrick challenges what he considers to be misinterpretations of Upton by contemporaries and historians that paint him as "an antidemocratic militaristic zealot."
Fitzpatrick is a 1978 graduate of the United States Military Academy at West Point and served as a Field Artillery Officer in the U.S. Army from 1978 to 1992 and in the same role as a United States Army Reservist from 1992 through 2003. He received his master's and doctoral degrees in military history from the University of Michigan in 1988 and 1996, respectively.
The Army Historical Foundation Distinguished Writing Awards program was established in 1997. Each year, nominations are made by publishers and journal editors and a small group of finalists are selected. Winners, chosen by the AHF's Awards Committee, are announced at the organization's members' meeting. Book award winners receive a plaque and a $1,000 cash award.
The 2017 book award winners, announced by General Gordon R. Sullivan, Chairman of the Army Historical Foundation, include:
Biography –

Emory Upton: Misunderstood Reformer

, by David J. Fitzpatrick
Operational/Battle History –

Combat Operations: Staying the Course, October 1967 to September 1968

, by Erik B. Villard
Institutional/Functional History –

Pershing's Crusaders: The American Soldier in World War I

, by Richard S. Faulkner
Journals, Memoirs, and Letters –

The Personal Memoirs Ulysses S. Grant: The Complete Annotated Edition

, edited by John F. Marszalek, David S. Nolen, and Louie P. Gallo
Unit History –

The 1st Infantry Division and the US Army Transformed: Road to Victory in Desert Storm, 1970-1991

, by Gregory Fontenot
Reference –

The West Point History of the American Revolution

, edited by Clifford J. Rogers, Ty Seidule, and Steve Waddell
The Army Historical Foundation is dedicated to preserving the history and heritage of the American soldier. Its goal is to promote greater public appreciation for the contributions that America's Army – active, reserve and National Guard – has made to the nation in 242 years of service. The Foundation is the principal fundraiser to build the National Museum of the United States Army, which will open in 2020 at Fort Belvoir, Virginia.
Tags: 2018, David Fitzpatrick, Faculty, Social Sciences, ousearch_News_2018