June 27, 2018 Richard Rezler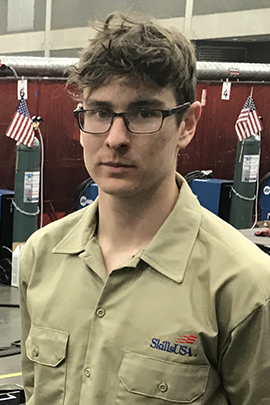 LOUISVILLE, Ky. -- Three Washtenaw Community College students are competing this week at SkillsUSA's 54th annual National Leadership and Skills Conference at the Kentucky Exposition Center.
Let's meet them:
RAYMOND PAPIERNIAK
RELATED: Facebook post | Video
Raymond Papierniak, 19, of Ann Arbor, is competing in the Overall Welding category, and spent most of Wednesday testing his skills in five welding disciplines: Stick, Mig, Tig, Flux Core and Oxy Fuel Cutting. He was allotted one-hour to complete each discipline.
"I'm fairly happy with what I've got," Papierniak said. "I made some mistakes, but in stick welding I ran out of time. I thought I had about 30 minutes left, but then the judge came up and told me I had five minutes left."
It's the first year competing at nationals for Papierniak. He has bigger plans ahead, hoping to use his national experience, and a full-year scholarship from WCC, to advance him to world competition in Kazan, Russia next year.
ASHLEA CARRAVALLAH
RELATED: Facebook post
WCC student Ashlea Carravallah is geared up to compete in the Automotive Refinishing Technology competition this week. It's the second consecutive year she has qualified for the national competition, which is a showcase of career and technical education students.
Last year, the 24-year-old Fenton resident finished in 10th place, but she sees that experience and a year of growth in her trade as reasons to expect a higher finish this year.
"I have zero nerves going in this year. I know what's going to happen," Carravallah said. "It's the little things I have to pay close attention to. I'd love to win, but I can't let myself get upset if I don't. I'm going out to win though."
JOE EDDY
RELATED: Facebook post
Joe Eddy is taking his decision to specialize in Automotive Collision Repair to the next level this week.
Only three years removed from four years of military service in the Marine Corps — a service which included deployments in Afghanistan and Japan — the 31-year-old Eddy has advanced his collision repair skills to where he will test them against the best college students the United States has to offer. The competition consists of three disciplines: a written test, an interview process and damage analysis.
"I did a lot of things after I got out of the military before I decided I would do this," Eddy said. "I was very excited when I made it (by winning the state competition) by three points."
The Milan native and Ypsilanti resident earned a Bachelor of Sciences degree from Eastern Michigan University before deciding to alter his career plans and go into collision repair.
The three WCC students are joined in Louisville by WCC Automotive Body Repair part-time instructor Bobby Feldkamp and full-time Welding faculty member Alex Pazkowski.
They're part of more than 16,000 people — including students, teachers and business partners — are expected to participate in the weeklong event that concludes on Friday with the closing awards ceremony.
College and high school students from around the country compete in a wide variety of skills ranging from automotive, aviation and diesel technology and maintenance to skills such as advertising design, crime investigation, hair styling, culinary, robotics and many other categories.
— Story and photos by NuMedia Services for WCC
Tags: 2018, Ashlea Carravallah, Joe Eddy, Raymond Papierniak, SkillsUSA, ousearch_News_2018