June 29, 2018 Richard Rezler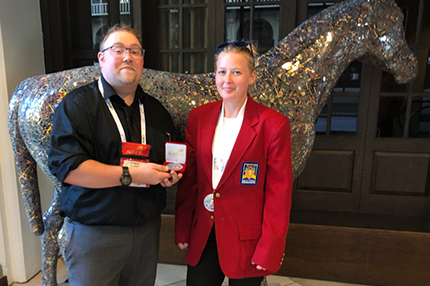 LOUISVILLE, Kentucky - Washtenaw Community College student Ashlea Carravallah took home a silver medal from the 54th Annual SkillsUSA national championships on Friday at the Kentucky Exposition Center.
Carravallah earned her second-place finish in her second year of competing against 28 other state champions in the Automotive Refinishing Technology competition. She finished 10th last year, but used that year of experience to boost her score to 904 out of a possible 1,000 points this year.
When her named was called to the podium on Friday, Carravallah had to pause for a moment to let it all sink in.
"I kind of just sat there and thought I guess I didn't do all that bad after all," Carravallah said.
Another WCC auto student, Joe Eddy, competed in the Automotive Collision Repair category and finished 10th. A welding student, Ray Papierniak, won a gold medal in Overall Welding. (READ STORY)
The 24-year-old Carravallah continues a tradition of competitive success by students in the WCC Auto Body Repair program. Her instructor, Bobby Feldkamp, holds first and second-place medals in national competition. Former students Phil Davie and Wyatt Knick also previously won gold.
"I knew that she could do it, just like I did last year. But she had to believe in herself and she did," Feldkamp said. "I am ecstatic. It makes all the long hours of training that she has put into this worth it.
"It's also great for the school. It lets everyone know that not only does Washtenaw have the best program in the state, but that it also is right up there with the best in the nation. It builds reputation for the school and is huge for our program."
Carravallah also works for Feldkamp at Stony Creek Collision in Ypsilanti. Could a pay raise now be in the works? The two kidded about this during the week's competition, but Feldkamp's holding firm on his stipulations.
"I told her she'd get a pay raise if she finished first, the same pay for second, a pay cut for third, and termination for fourth," Feldkamp joked. "I'm sure glad she didn't finish fourth because she is a great worker who works very hard and we are very fortunate to have."
In addition to the silver medal, Carravallah received an assortment of tools, a rolling cart and free training trips to some of the top paint companies in the country.
"I'm really looking forward to going on those training trips. I always wanted to do some of those, but they are very expensive," Carravallah said.
- Story by NuMedia Services for WCC
Tags: 2018, Ashlea Carravallah, SkillsUSA, ousearch_News_2018