July 27, 2018 Richard Rezler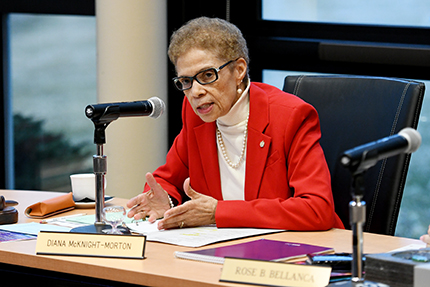 Diana McKnight-Morton, an alumna of Washtenaw Community College and the current chairperson of the college's Board of Trustees, has been awarded the Michigan Community College Association's Outstanding Alumnus Award.
McKnight-Morton received the award Thursday night at the MCCA Summer Conference in Traverse City. It is presented annually to a Michigan community college alumnus based on achievement in his or her professional career, service to humanity, honors received, and a strong commitment to the purpose and philosophy of the community college mission.
"Diana has enjoyed a lifelong career centered on promoting the value of education and workforce development in our community," said WCC President Dr. Rose B. Bellanca. "More significantly, she has long been a fierce advocate for WCC, its mission, and the critical importance of community colleges to providing accessible and high-quality educational opportunities that enable students from all walks of life to meet their career and personal goals."
McKnight-Morton attended WCC in 1973-75 before receiving a bachelor's degree in education from the University of Michigan and a master's degree in guidance and counseling from Eastern Michigan University. She was a teacher in the Ann Arbor and Jackson public school systems and in the Ypsilanti public schools' adult education program. She also served as Assistant Division Services Manager for Employment Training and Community Services of Washtenaw County.
She was first elected to the WCC Board of Trustees in 1994 and re-elected for additional six-year terms in 2000, 2006 and 2012. She has filed to run for another six-year term in 2018. She is currently serving her second stint as board chairperson after doing so in 2005-06.
As a board member, McKnight-Morton has been steadfast in her commitment to enhancing equity and a culture of respect for diverse populations at WCC. She was influential in the college establishing a Diversity Task Force in 2014 to examine ways to increase opportunities for underrepresented populations and promote an awareness of diversity on campus. That task force led to the creation of an Office of Diversity and Inclusion. This is now the Office of Student Access, Success, Equity and Inclusion. She has also advocated for programs for at-risk populations, such as the Harriet Street Center and Parkridge Community Center in Ypsilanti, external sites that provide programs for youths through seniors.
"Above all, in Diana, the students at WCC have a voice supporting their success," Bellanca said. "She seeks reporting to ensure financial aid and learning support services are there for those who need them; who promotes academic programs that have jobs waiting at the end for students; who demands a diverse culture of respect and equity for students as well as faculty and staff; and who insists that the college be affordable, safe and accessible to all students."
The lifelong Ann Arbor resident is also a strong proponent of her hometown and nearby Ypsilanti. She is the founder and past president of Ann Arbor Community Development Corporation and has been affiliated with the Washtenaw United Way and the Washtenaw County Workforce Development Board. She was appointed by her peers to serve on the Board of the Southeast Michigan Council of Governments (SEMCOG).
Tags: 2018, Board of Trustees, Diana McKnight-Morton, Outstanding Alumnus Award, ousearch_News_2018