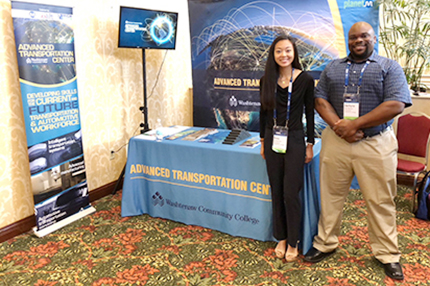 A pair of Washtenaw Community College students are interacting with automotive industry experts at the Center for Automotive Research (CAR) Management Briefing Seminars being held July 30-August 2 in Traverse City.
Zachyre Van Buren and Rosa Lechartier were hand-selected by WCC faculty to represent the college at the annual event, which draws more than 1,000 attendees for high-level sessions on the technology opportunities and strategic challenges facing the automobile industry during the new mobility transformation. Along with automotive experts, the Students@MBS program participants are exposed to leaders from finance, labor, government and academia.
Van Buren, 28, will complete an Associate in Applied Science Degree in Automotive Powertrain Development in early 2019 and plans to continue at WCC to pursue the college's Pre-Engineering Science Transfer degree, which sets the groundwork for a transfer to a four-year engineering program. A Los Alamitos, Calif., native now living in Ann Arbor, Van Buren wants to work in research and development for autonomous and connected vehicles, with a focus on emergency service and law enforcement vehicles.
Lechartier, 22, is following one of WCC's business transfer agreements with Eastern Michigan University, where she plans to pursue a bachelor's degree in International Business-Marketing. The Ann Arbor resident is particularly interested in working for an automobile manufacturer when she completes her studies.
The students are being accompanied by WCC Dean of Advanced Technologies and Public Service Careers Brandon Tucker, Dean of Business & Computer Technologies Eva Samulski, Dean of Economic and Community Development Niko Dawson, Advanced Transportation Center Director Al Lecz and Computer Information Systems faculty member Michael Galea. Undergraduate students from other Midwest institutions are also in attendance.
The Students@MBS program is designed to allow students to learn about the industry in a personal way while beginning to build a professional network before they graduate.
WCC is a sponsor of the Students@MBS program and is exhibiting its Advanced Transportation Center at the CAR MBS event.
We asked the WCC students to take a moment to share some thoughts on their trip to Traverse City for the CAR Management Briefing Seminars:
Q. What are your overall impressions of the CAR Management Briefing Seminars?
ZVB: "They are formally informative and casually approachable. There is a wealth of knowledge and people eager and excited to go over the current and upcoming issues in the field and what we need to do to not only prepare and counter, but to go on the offensive."
RL: "Nothing but positive. I am capitalizing on this incredible networking opportunity, and am thoroughly enjoying meeting and getting to know students and professionals who share a passion for cars and the automotive industry.."
Q. How does it feel to be a student representative attending an event full of executive management?
ZVB: "I don't see myself as a student. I see myself as another industry professional who is excited and eager to learn, share and connect. To that end, it is great to be here and I can't wait to do it next year."
RL: "Many executives from leading automotive companies are in attendance, and I feel honored to represent my college at this conference."
Q. What are you most impressed with?
ZVB: "I am impressed with how the presenters are all able to deliver the information given in a way that is a nice balance between being entertaining and informative."
RL: "I am most impressed with the speakers who are presenting the seminars. They are not only experts, but leaders and pioneers."
Q. What is your primary takeaway or the best thing you learned?
ZVB: "My primary takeaway really reinforced the reality that the automotive world is very broad and the marriage of other industries – such as the network security field – will only broaden it. With that, the potential is limitless in the ways to get involved and create impact."
RL: "My primary takeaway from this conference is the automotive industry is vast, ever so dependent on a variety of factors, and most importantly, the future of this industry could drastically change in the years to come."
Tags: 2018, Automotive Powertrain Development, Business, Center for Automotive Research (CAR) Management, Rosa Lechartier, Zachyre Van Buren, ousearch_News_2018