August 18, 2018 Richard Rezler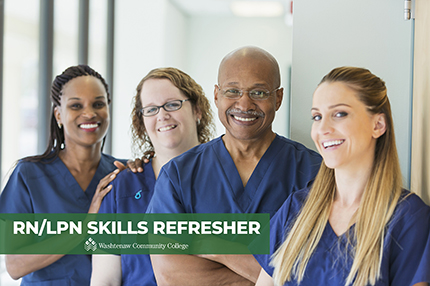 The Washtenaw Community College Nursing and Health Sciences Division and its Workforce Development department are teaming up to help get nurses whose licenses have lapsed back into the profession.
The RN/LPN Skills Refresher class meets one of the requirements to have an RN or LPN license reinstated by the Michigan Board of Nursing after it has lapsed or otherwise been lost. Nurses must also achieve 25 continuing education units prior to reinstatement.
The next scheduled classes:
8 a.m. to 2 p.m. on Sunday, Feb. 16 and Saturday, Feb. 29. Register here.
8 a.m. to 2 p.m. on Saturday, April 18 and Sunday, April 19. Register here.
The RN/LPN Skills Refresher class is split into two six-hour days of content, which includes supervised skills practice and testing for validation of nursing skills.
Skills include: head-to-toe physical assessment, including vital signs; medication administration; documentation; surgical asepsis and infection control; safety, including fall prevention; body mechanics; and transfers.
Those who successfully complete the class will receive a certification of completion. This class meets the Michigan State Board of Nursing requirement for Certification of Skill Competency.
For more information about the classes, contact the WCC Workforce Development department at 734-677-5060.
###
Media contact: Susan Ferraro, 734-677-5295, [email protected]
Tags: 2018, Health Sciences, Mary Burns-Coral, Nursing, Workforce Development, ousearch_News_2018