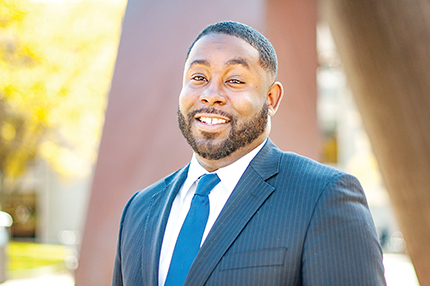 Brandon Tucker, Dean of Advanced Technologies and Public Service Careers at Washtenaw Community College, has been appointed to the Michigan Council on Future Mobility by Governor Rick Snyder.
"I am humbled by this appointment and it is a testament to the hard work of our team toward advancing the talent pipeline for mobility within the State of Michigan," Tucker said. "Having a seat at the table provides a unique opportunity for education to weigh in on state-wide initiatives around mobility and intelligent transportation."
The governor appoints 12 members to the 21-member council, which was created in 2016 and is housed within the Department of Transportation. It provides the governor and legislature with recommendations for state policy changes to ensure Michigan continues to be the world leader in automated, driverless and connected vehicle technology.
"Michigan has always been a leader in mobility and this council works to not only keep up with the industry, but lead the world in automotive innovation," Snyder said in a release. "I thank Brandon for bringing his skill in talent development to this council."
Since being named dean of Advanced Technologies and Public Service Careers in 2014, Tucker has reoriented the division's curriculum to better align student learning with the future of mobility. He oversaw implementation of $4.4 million in funding from the state's Community College Skilled Trades Equipment Program (CCSTEP) that allowed for the purchase of state-of-the-art equipment for education and training related to intelligent transportation systems, advanced manufacturing and automotive transportation servicing.
Under his leadership, WCC has built partnerships with the University of Michigan's MCity, a first-of-its-kind controlled environment for testing connected and automated vehicle technologies; and the Square One Education Network, which supports educators developing tomorrow's workforce. WCC is also one of 14 Michigan colleges and universities that form the Academic Consortium at the American Center for Mobility in Ypsilanti.
Tucker is a United States Air Force veteran, an ordained minister who serves as Executive Pastor of the Greater New Psalmist Church in Toledo, has served on numerous local non-profit boards and is an active member of Alpha Phi Alpha Fraternity, Inc. Tucker has a bachelor's degree from the University of Toledo, a master's degree from Lourdes University and is a doctoral candidate in the PhD in Higher Education program, also at the University of Toledo.
He started his career in the automotive industry, recruiting for the Big Three and their Tier 1 suppliers. It was this experience, Tucker says, that gave him the ability to understand all facets of the workplace – as an employer, employee, business leader and community member. Tucker has also been an adjunct instructor at Tiffin University, Owens Community College and at WCC, teaching a variety of business courses.
Tags: 2018, Advanced Technologies and Public Services Careers, Brandon Tucker, Mobility, ousearch_News_2018