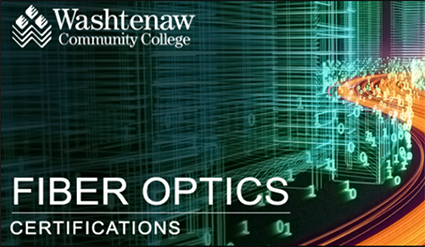 As part of its ongoing commitment to develop workforce training in advanced technologies, Washtenaw Community College is offering week-long fiber optic installation training program in September.
The WCC Workforce Development training program prepares individuals for careers in intelligent transportation systems, data communications infrastructure, advanced manufacturing, and health care and financial technology. Each session includes three classes that culminate with a certification examination from the Fiber Optics Association (FOA), the international professional society for fiber optics.
The fiber optic boot camp runs September 10-16 on WCC's main campus in Ann Arbor. The boot camp has no prerequisites; a high school diploma is the only requirement. Registration for the September boot camp is available now.
"We are in the middle of a dramatic transformation in the manufacturing, transportation, financial and medical information industries," said Neil Gudsen, Program Development Manager at WCC. "Fiber optics cabling is the technical backbone that enables innovative changes in such industries. This training will be valuable to both individuals seeking employment in those fields and incumbent workers looking to upskill."
Gudsen said the idea for the training came through WCC's institutional imperative to create vehicle-to-infrastructure (V2I) training as part of its Advanced Transportation Center and training partnerships with the American Center for Mobility. However, he notes that the skills taught will appeal to many different employers that use fiber optic cabling.
Each course in the boot camp includes classroom theory, but mostly hands-on instruction in fiber optic installation, splicing and troubleshooting and will prepare trainees to take Fiber Optic Association certification exams at the end of each class. The cost of the training includes the certification exams, books, study materials and a one-year membership to FOA.
The September program offers Certified Fiber Optic Technician, Certified Fiber Optics Specialist in Testing and Maintenance, and Certified Fiber Optic Specialist in Splicing classes. The cost of the program is $2050.
For more information or to register for training, visit wccnet.edu/fiber-optic-training or contact Gudsen at734-677-5296 or a program representative at 734-677-5060 (main campus) or 734-219-7313 (WCC office at American Center for Mobility).
For more on WCC's Workforce Development programs, visit wccnet.edu/workforce-development.
---
Media contact: Susan Ferraro, Director of Media Relations, 734-677-5295, [email protected].
Tags: 2018, Certifications, Fiber Optics, ousearch_News_2018