August 16, 2018 Richard Rezler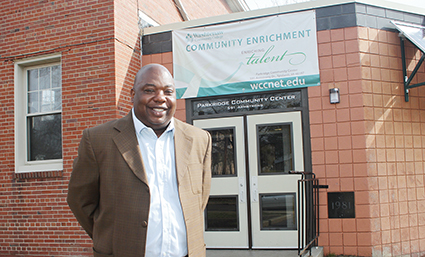 Washtenaw Community College is enhancing the after-school academic support services it offers at the Parkridge Community Center in Ypsilanti thanks to a $133,176 grant from Washtenaw Coordinated Funders.
The program was approved for a two-year funded grant with $66,588 awarded in July for the upcoming school year. Another $66,588 will be awarded next year. With the funding, WCC is hiring a certified teacher to be on site and purchased 12 laptops and docking stations for student use. Funding will also be used to increase the participation of several partner organizations that regularly volunteer their time at the center.
The Parkridge Youth Program (PYP) provides positive, structured after-school and evening activities for K-7 students and teens in and around the New Parkridge, Hamilton Crossing and Forest Knoll Apartments neighborhoods on the south side of Ypsilanti.
"Our goal, with the help of our partners, is to provide consistent and comprehensive programming for Ypsilanti youth living in risk," said WCC President Dr. Rose B. Bellanca. "Thanks to the funding provided by Washtenaw Coordinated Funders, we can add resources to our quest to provide emotional and physical safety, as well as building soft skills and academic competencies."
The K-7 after-school program will run from 4-6 p.m. Mondays through Thursdays, beginning October 1. Academic support will align with state curricula and be taught by trained staff from partner organizations Mentor2Youth, Telling It and Family Learning Institute. A "Fun Friday" event will focus on STEM-related projects and field trips led by trained staff.
Evening teen programming during the school year will run from 6-9 p.m. It will include tutoring, social and emotional learning, leadership activities, peer- and adult-led discussions and other workshops led by staff from Parkridge and partner organizations Educate Youth and Telling It.
The Parkridge Community Center has been operating on the south side of Ypsilanti for 75 years. WCC and the City of Ypsilanti partnered more than five years ago to provide youth and community programming at the center.
The grant to WCC for the Parkridge Community Center youth program is one of 59 awarded to local organizations by Washtenaw Coordinated Funders, totaling $4.3 million.
Washtenaw Coordinated Funders is a collaboration of Washtenaw County, the City of Ann Arbor, and Washtenaw Urban County (represented by the Office of Community & Economic Development), United Way of Washtenaw County, the Ann Arbor Area Community Foundation, and St. Joseph Mercy Ann Arbor.
Tags: 2018, Anthony Williamson, Parkridge Community Center, ousearch_News_2018