August 20, 2018 Richard Rezler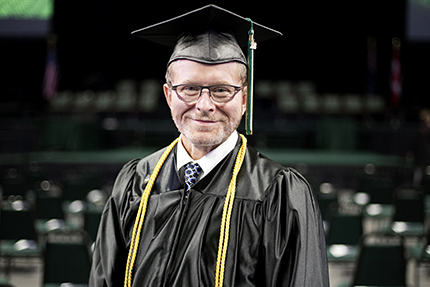 Jim Krupp crossed the stage to pick up a college degree he'd waited more than 20 years to achieve, yet wearing a black graduation gown that represented three other degrees he was partially responsible for.
The 63-year-old journeyman from Local 189 in Columbus, Ohio, was one of 41 United Association members to receive a Washtenaw Community College associate degree at the UA's Completion Ceremony at the end of its week-long Instructor Training Program held on the WCC campus. Krupp and 175 others also became a UA Certified Instructor of Journeymen and Apprentices, the culmination of attending the annual training program for five summers.
"It's been quite an experience," Krupp said. "It's an honor to be here. It's an honor to wear this gown."
That gown has become a cherished family tradition. His wife, Ann Kemble, wore it first when she graduated from Kent State in 1988. She was at the Eastern Michigan University Convocation Center to watch James have his turn, 30 years later.
"I couldn't be prouder of him," Ann said. "He has worked very, very hard. He has earned all of this and we're very lucky to have him in our life."
Jim and Ann have three children, born over a three-year span, which put Jim's thoughts of pursuing a degree on hold. Instead, he built a successful 42-year career in the trades — the last 26 years spent at Johnson Controls — that assured his children would attend college without accumulating a mountain of debt.
"It takes a lot of character to put your own dreams on hold and make sure everybody else gets where they need to be," Ann said. "He put three kids through college. Now it's his turn."
Sitting beside Ann was their daughter, Jacqueline Kemble, who wore the same gown when she graduated from Ohio State University in 2012.
More than 4,000 miles away, daughter Alicia Kemble tuned in to a live stream of the Completion Ceremony that started at 9 p.m. in Switzerland, where she's interning while pursuing a master's degree in neuroscience from Ludwig Maximillian University of Munich, Germany. Alicia wore the same gown when she received her bachelor's degree from the University of California-San Diego in 2011.
Their son, Colin Kemble, would have worn the same gown, too, upon graduation from the University of Cincinnati, but black was the wrong color for his school of study. Instead, he fits into the family tradition by wearing the gown during his 2008 high school graduation. Colin was also able to watch his dad graduate via the live stream.
"I think it's really cool thing we do, and I'm really excited to be here to see my dad wear it," Jacqueline said of the gown tradition. "He worked so hard to make sure the rest of us got to go to school and I know he worked hard to earn this degree. I would go to their house late in the evening and he'd be on his computer doing class work, and I'm pretty sure he was back there early in the morning."
The Completion Ceremony is the culmination of the annual Instructor Training Program (ITP) at WCC, during which students take college-level training courses to become a Certified Instructor of Journeymen and Apprentices.
Simultaneously, UA members can take online courses through UA University @ WCC, a specialized learning opportunity that builds upon trade-related experience and apprenticeships to culminate in certificates and associate degree programs specifically designed for the union.
The 41 UA members that earned associate degrees this year is a program record, according to Brittany Tripp, Manager of UA Programs at WCC. The college added alumni from Alabama, California, Florida, Georgia, Illinois, Kansas, Maine, Maryland, Massachusetts, Minnesota, Missouri, Nevada, New Jersey, New York, Ohio, Texas, Utah, Washington, Washington D.C. and Wyoming; as well as Ontario and British Columbia, Canada.
This year's Instructor Training Program – held on the WCC campus for the 29th consecutive summer – set a record for attendance and had an estimated $8 million impact on Washtenaw County.
RELATED: See a photo gallery from the UA's week on campus
Tags: 2018, Commencement, Graduation, Jim Krupp, Union, United Association, ousearch_News_2018