August 29, 2018 Richard Rezler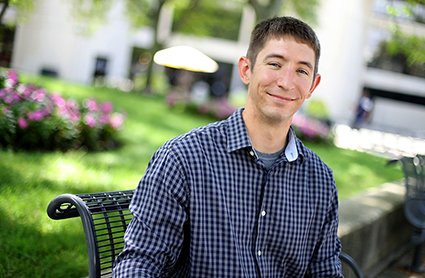 The night before starting classes at Washtenaw Community College in the fall of 2016, Michael Kozma laid in bed contemplating his future. He grabbed his phone from the nightstand and typed into Google: How to succeed in college.
Not surprisingly, the search did not result in any secret formula. But Kozma did find one all on his own over his two years at WCC. He says the recipe was a dash of maturity on his part and the heaping scoops of knowledge and confidence piled on him by WCC faculty, counselors and advisers.
"Two years ago, I was a college dropout who hadn't had an A in a class this decade," the 27-year-old said. "Now I've completed 66 credits with nothing lower than an A. I'm a double major in Economics and Math Science at the University of Michigan, and two years from now, if everything goes as planned, I'll be applying to Ivy League doctoral programs. That is really insane if you think about where I started, and WCC is a big part of the reason for it."
Where he started was a self-described mediocre student who graduated from Chelsea High School with a 2.6 GPA in 2008, followed by one regrettable year at a small four-year college, where he rarely went to class and essentially flunked out.
From there, Kozma enlisted in the U.S. Army, where he was an infantryman and sniper who served tours in Afghanistan, Kuwait and the Arabian Peninsula. Upon discharge, he remained in Colorado – he was stationed at Fort Carson, near Colorado Springs – and sold cars for a year before moving back to Michigan with his wife to be closer to family.
Back in Chelsea, he worked as a security guard and delivered pizza. He also spent a lot of time slumped on his parents' couch, cloaked in self-doubt, pondering his future.
"Here I am, an Army veteran who had done a half Ironman and I'm still questioning myself. 'Is this who I am?' You start to perceive yourself differently," Kozma said. "Eventually you think, 'Maybe this is my lot in life. Maybe I don't have the ambition to go any further.' But with a little encouragement, everything starts changing."
Everything did change when Kozma enrolled in general education courses in preparation to apply to the Police Academy at WCC, which requires a minimum of 45 college credits. He was a good infantryman who reacted well in high-stress situations – "for a 20-year-old adrenaline junky, there's no better fix," he says – so the Police Academy seemed like a logical next step.
Kozma never got around to applying to the Police Academy. Not because of more failure. Because of unprecedented success. He finished that first semester with a 4.0 GPA and a whole new world of possibilities ahead of him.
That heavy weight of self-doubt Kozma had experienced before enrolling at WCC seemed to be lifting at every turn. There was a Calculus instructor, Alan Orrick, who convinced Kozma he would excel if he put in the work. He was right. There was the student advisor, Alexandra McCracken, who assured him being accepted to Michigan wasn't a pipe dream despite that disastrous first attempt at a four-year institution. She was right. There was the Psychology instructor, Dr. Cassandra George Sturges, who first planted the seed in Kozma that there's no reason a community college student shouldn't be aiming for a doctorate degree. She was right, too.
"I think a lot of people at WCC doubt themselves, just like I did in so many ways," Kozma said. "But the teachers do believe in you, and that can make all the difference."
This past summer was Kozma's final semester at WCC. He was putting in 40-hour weeks with the Undergraduate Research Opportunity Program at U-M, crunching data coming out of the Israel-Palestine conflict. At the orientation for the program, organizers suggested the student employees should not also take summer classes.
Kozma did, anyway. "I'm a little cocky at times," he admits. He enrolled in a demanding Calculus 3 class and completed his clean-sweep. He finished a 66-credit transfer guide specifically prepared for WCC students headed to U-M's College of Literature, Science, and the Arts without ever receiving anything lower than a 4.0 GPA.
Oh, and to fill his barely-existent free time over the summer, Kozma also worked part-time in a bike shop and trained for an Ironman competition.
Talking to Kozma during the precious few weeks between the end of that grueling summer schedule and the beginning of classes at U-M on September 4, he had a very different attitude than two years earlier on the eve of starting at WCC. There was no Googling of tips for success this time around. This Michael Kozma was calm and confident.
"I ended up at WCC through some happenstance, and it was the exact right time and place in my life," he said. "I know I won't be the smartest person in the classroom at Michigan, but I know I've done more work than any of them. I can outwork all of them."
Tags: 2018, Michael Kozma, Police Academy, ousearch_News_2018