September 20, 2018 Richard Rezler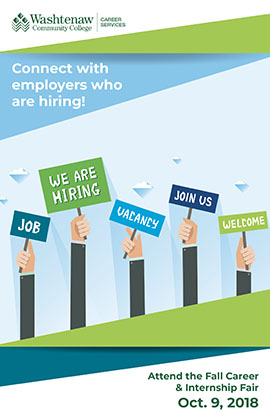 The 2018 Fall Career & Internship Fair at Washtenaw Community College is expected to include representatives from an estimated 70 employers looking to immediately fill current job opportunities. The event is free and open to the public.
Organized by WCC's Career Services department, the career fair will be held from 4-6 p.m. on Tuesday, October 9, in the Morris Lawrence Building on the college's Ann Arbor campus (see campus map).
Pre-registration is requested, but not required, and available at wccnet.edu/careerfair.
Confirmed employers to date include representatives from Domino's Pizza headquarters, Glacier Hills Senior Living, Greektown Casino Hotel, IHA, Kelly Engineering, Lake Trust Credit Union, Nexient, Penske, Rousch, State of Michigan, Thomson Reuters and Zingerman's (a complete list is available at wccnet.edu/careerfair).
"Our career fairs are a great opportunity for our students, a good reminder to the people in the community that we are here to serve them, as well, and a valuable resource of talent for local businesses and organizations," said Cheryl Harvey, Assistant Director of Career Services. "We have many regular partners that we work with who know we can provide them with qualified and motivated applicants."
The WCC Career Services department hosts a variety of events throughout the year. In addition to general career fairs open to the public in the spring and fall, the college hosts student events for niche areas such as advanced manufacturing, business and health care.
Leading up the the Fall Career & Internship Fair, the department is offering a "Maximize Your Career Fair Experience" workshop at noon on Wednesday, Oct. 3, in room 258 of the Crane Liberal Arts Building.
For more information on the 2018 Fall Career & Internship Fair or the corresponding workshop, contact Career Services at 734-677-5155 or [email protected].
Tags: 2018, Career, Internship, ousearch_News_2018