September 20, 2018 Richard Rezler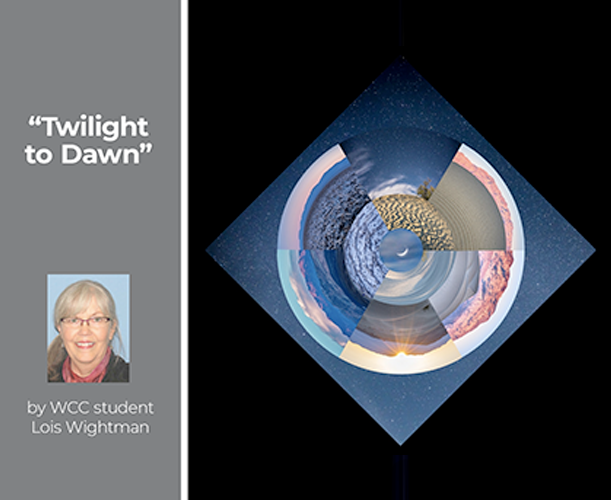 When Lois Wightman first enrolled in a digital photography class at Washtenaw Community College, she was simply looking to learn something creative in her retirement.
Six classes later, the Chelsea resident has work selected for exhibit at the prestigious ArtPrize, a city-wide art festival and competition in Grand Rapids that runs through October 7.
"This has been a very surprising journey for me," Wightman said. "Exhibiting my work was not a goal I had when I started. I wanted to learn to create something beautiful, and the audience was going to just be myself."
Her audience is considerably larger now. ArtPrize draws more than a half million visitors to Grand Rapids and has been recognized as the most-attended public art event in the world.
Wightman's selected work is titled "Twilight to Dawn." It's a 45-inch x 45-inch print of a composite of 12 photographs she took at various places in Death Valley, California. According to the official ArtPrize description, the piece "represents the evolution of time of day and transition from twilight to sunrise. … Inspired by the vastness of the landscape and vault of the sky, the circle of images is surrounded by stars."
"Twilight to Dawn" was created for a Portfolio Projects (PHO 230) class under the direction of WCC Digital Media Arts faculty member Terry Abrams.
"The class is really about thinking how you want to display and present an image. Instead of just creating a print on a wall. How do you want to communicate what you're doing? Is there another way?" Wightman said. "Out of that inspiration, I came up with this idea of the circle of time, a circle of fading light and emerging light. Then it was a quest to figure out how to do that technically, for which I drew upon experiences and things I learned in classes up to that point."
It was Abrams who – during classroom critique of the image – suggested that Wightman enter it for ArtPrize consideration.
"Never having thought of herself as 'ready to exhibit' her photography, this was a major step for her and excellent confirmation of her creative photography," Abrams said.
Now in its tenth year, ArtPrize includes 165 venues throughout downtown Grand Rapids ranging from museums and high-end hotels to restaurants, public parks and office spaces. Artists from 41 states and 40 countries are eligible to win a $200,000 award based on public votes while a jury of art experts awards another $200,000 prize.
Wightman's work was selected for display at Boardwalk Condominiums, a renovated former furniture factory in the vibrant Monroe North District of Grand Rapids. Wightman said her work fit well with the location's theme of renewal.
Asked if being selected for exhibit by an international art show has changed how she'll approach her relatively new hobby in the future, Wightman says she isn't sure.
"This is definitely a new open door, but I don't know where it will lead," she said. "But it certainly is a remarkable thing to be here now after starting out six classes ago just trying to learn a camera."
Tags: 2018, Digital Photography, Lois Wightman, Photography, ousearch_News_2018