October 8, 2018 Julia Ochoa-Corante, Public Relations work study student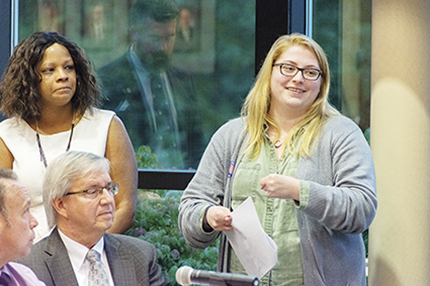 Matea Pejic was born in the former Socialist Federal Republic of Yugoslavia in the area that is now recognized as Croatia.
In 1997, during the wars that came after the breakup of Yugoslavia, she immigrated with her mother to the United States as a refugee and settled in Grand Rapids with the assistance of the United Nations Children's Fund (UNICEF).
Today, Pejic is a Washtenaw Community College student and is the founder and president of the WCC UNICEF Campus Initiative and President of the college's Pre-Law Club. She's also a democracy fellow for the Campus Vote Project, where she's following her passion for democracy and encouraging others to do the same.
Pejic came to WCC to enroll in the college's Paralegal Studies/Pre-Law program with the intention of gaining a job in a law firm to increase her odds of being accepted to the University of Michigan Law School.
"I wanted to be a lawyer from a very young age, but I also had a passion for history," said Pejic. "I wanted to study what happened during the break up of Yugoslavia, international law, and the trials that occurred after the breakup."
Prior to coming to WCC, Pejic attended Northern Illinois University, where she graduated with two bachelor's degrees in history and political science, with an emphasis on international politics.
While Pejic's degrees and experience could get her into most law schools, she has her sights set on UM Law School for very specific reasons.
"The University of Michigan Law School is one for the best in the country and gives me the best chance of working in international law outside of the major Ivy League law schools," said Pejic.
After getting accepted to UM Law School, Pejic's next goal is to gain internships at either the International Court of Justice or the International Criminal Court, or both.
But for now, Pejic is gaining valuable leadership experience as the president of two clubs on campus, as a democracy fellow for the Campus Vote Project, and as a Student Life Officer for WCC Student Activities.
"It's been a pleasure to watch Matea grow professionally," said Peter Leshkevich, director of student development and activities. "She has not only surpassed my expectations, but she has surpassed her own expectations and barriers as an individual."
If there is one project that Pejic is most passionate about, it's the Campus Vote Project, a national non-partisan effort to create a culture of voting at U.S. colleges.
WCC professional faculty member Dr. Kimberly Jones worked with Pejic to bring the organization to WCC and is serving as the project's faculty representative.
As the democracy fellow, Pejic's goals are to register 2,500 WCC students, staff and faculty to vote and increase WCC student voter turnout.
"As an immigrant and a woman with disabilities, voting is a right I wouldn't have unless other people who came before me fought for my right to vote," said Pejic, who was born with symbrachydactyly, an abnormality of the hand.
"When you think of all of the work and struggle that people went through to earn the right to vote, from the suffragette movement to the civil rights movement, it seems very disrespectful to me for people not to vote."
If the Campus Vote Project meets its goals, WCC will be awarded the nationally recognized designation as a "Voter Friendly Campus."
"I am extremely proud of Matea's passion for this very important project," Leskevich said. "Her work will make an indelible impact on our campus for years to come."
---
Help Pejic meet her goals by registering at wcc.turbovote.org. Although the deadline has passed to register to vote in time for the November mid-term elections, signing up with Turbo Vote allows you to receive future election reminders, election information and apply for absentee ballots.
Public Relations work study student Julia Ochoa-Corante contributed to this report.
Tags: 2018, Paralegal Studies/Pre Law Program, UNICEF Campus Initiative, ousearch_News_2018