October 22, 2018 Richard Rezler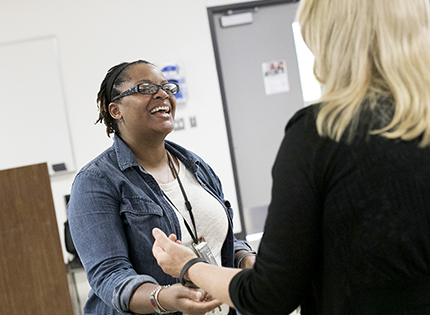 Washtenaw Community College faculty member Elizabeth Connors will be honored with an Occupational Studies Outstanding Educator Award at the Trends in Occupational Studies Conference being held October 24-26 in Troy.
Connors is the program director for WCC's Surgical Technology and Sterile Processing programs, both part of the Health Sciences Division.
"Elizabeth still gets as excited about teaching today as she did on her first day of becoming part of the WCC faculty in 2014, and that shows in the highly skilled students that leave her programs," said WCC Dean of Health Sciences Dr. Valerie Greaves. "I cannot think of a more deserving faculty member for the Outstanding Educator Award."
In 2016, Connors took over a WCC Surgical Tech program that had struggled to attract students. Within one year, Connors had led the program to a successful national accreditation by ARC/STCA and within two years, the program was filled to capacity.
Since she took over, 100% of program graduates have passed the national certification examination on their first attempt and between 95-100% of program graduates gained employment within six months of graduation.
In Fall 2018, Connors launched the college's new Sterile Processing certificate program, the first in Washtenaw County. It was a full-circle moment considering she started a career in healthcare as a sterile processing technician at St. Joseph Mercy Hospital in 1997.
Connors also worked for St. John Health System and Henry Ford Health System in southeastern Michigan before she "found her passion" in teaching by joining the WCC faculty in 2014.
The Outstanding Educator Award is presented to up to three faculty members annually who demonstrate excellence in the classroom, professional achievements and service/contributions to areas of the college that are beyond the individual's area of teaching.
In her nomination of Connors, Greaves highlighted Connors' collaboration with the college's Adult Transitions Pathways Program, which provides academic skills coaching and counseling support services to adults in the community who are seeking a GED or other job skills development. Two students dual-enrolled in Adult Transitions were among the inaugural graduates of the one-year Sterile Processing certificate program.
"Elizabeth is passionate about working with underserved students and works collaboratively with the Adult Transitions program to admit as many GED graduates as possible into her programs," Greaves said. "As a GED graduate herself, she knows what unemployability feels like and the toll it can take on one's self esteem."
Born and raised in Ann Arbor, Connors dropped out of high school when she became pregnant. Pursuing her GED sparked an educational journey that would include associate degrees in general studies and surgical technology, a Bachelor's of Applied Science from Siena Heights University and a Master of Arts in Education from Central Michigan University.
Tags: 2018, Occupational Studies, Outstanding Educator Award, ousearch_News_2018