November 5, 2018 Richard Rezler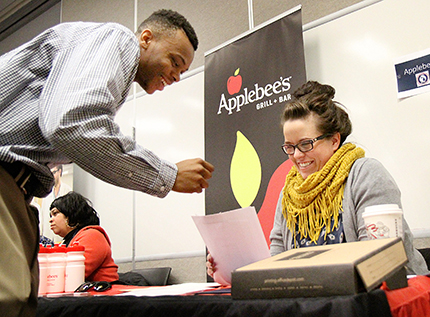 Designed to connect veterans and their families with potential employers, Washtenaw Community College is co-hosting a networking event and job fair with Hire MI Vet – a community initiative developed to help veterans find meaningful employment.
The college will host the event, which starts at 9:15 a.m. with a presentation by Debby Bezzina, senior program manager for the Ann Arbor Connected Vehicle Test Environment at the University of Michigan Transportation Research Institute. Her presentation centers on intelligent vehicles and the connected car industry.
From 10 a.m. to 12 p.m., veterans can have the opportunity to meet prospective employers from a wide array of industry groups, including manufacturing, hospitality, technology and retail. Registration is available online at hiremivet.org or at the event from 9 to 11:30 a.m.
Hiring managers from the following companies will be in attendance: Applebee's, Brenner Oil Company, Rocket Mortgage by Quicken Loans, Blue Cross and Blue Shield of Michigan, VA Ann Arbor Healthcare System, St. Joseph Mercy Health System, University of Michigan, Delta Dental, Thomson Reuters, Roush, Busch's Market, Zingerman's Community Businesses, City of Ann Arbor, Detroit Police Department, U.S. Customs and Border Protection, Glacier Hills Senior Living Community, Manpower and Speedway.
In addition to meeting with employers, attendees will have the opportunity to connect with veteran-specific community resources, including VA registration for My HealtheVet, Supportive Services for Veterans and Families and the Homeless Veterans Reintegration Program.
Job seekers are encouraged to dress professionally, conduct research of employers before attendance, and bring multiple copies of their résumé.
The entire list of employers is available at hiremivet.org/hmvhe.
Tags: 2018, ousearch_News_2018