November 7, 2018 Richard Rezler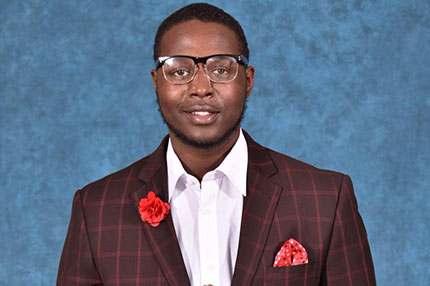 DaQuann Harrison started his Election Day like any other Washtenaw Community College student, stopping at his local polling place to vote before heading to campus for a 9 a.m. English 111 class with instructor William T. Day.
Unlike his classmates, Harrison was dapperly attired in a sports coat and scarf over his own campaign T-shirt, a DWH4YCS logo (DaQuann W. Harrison for Ypsilanti Community Schools) splashed across the chest.
The day didn't end as Harrison hoped. He finished fourth out of the six candidates vying for three open seats on the school board. Two incumbents (current vice president Celeste Hawkins and Ellen Champagne) were to top vote-getters. Harrison finished 635 votes behind Gillian Ream Gainsley.
In a mid-day conversation, Harrison said he was feeling confident about his campaign. He added that no matter the final vote count, he'd already won.
"I may lose politically, but I don't believe in losing in life," Harrison said. "You live and learn. I learned lessons and hopefully the younger generation was inspired that my name was on the ballot."
Harrison is a full-time WCC student, completing a Liberal Arts transfer program with plans to pursue a Political Science degree at a four-year university. At a young age, he's already heavily involved in the political process.
In May 2016, Harrison was invited by the Student Advocacy Center to testify in front of the Michigan House Education Committee. He talked about being expelled from Lincoln High School as a sophomore for bringing a kitchen knife and air soft gun to school after hearing rumors that several boys who had been bullying him were planning an after-school attack. Harrison told the committee that after a long night of worrying, including suicidal thoughts, he decided to arm himself and use the weapons as a scare tactic.
The weapons were reported by another student. Harrison was arrested and expelled. The criminal charges were later dropped, but by law the expulsion was permanent. He enrolled in the Washtenaw Alliance for Virtual Education and graduated in November 2016 – one semester early – as a Ypsilanti Community Schools student.
"From there, I kind of became a poster child to get rid of mandatory expulsion," Harrison said. "I began to speak all over the country with some heavy hitters. After the way they responded to me, and encouraged me, I decided being in public service is what I wanted to do."
In December 2017, Harrison spoke at a U.S. Commission on Civil Rights hearing about discriminatory school discipline policies. He was appointed by Governor Rick Snyder to the Michigan Committee on Juvenile Justice, selected to serve as a United Nations Youth Delegate and is a youth leader for the national coalition Dignity in Schools. Locally, he's on the steering committee for My Brother's Keeper of Washtenaw County.
Choosing to run for the unpaid Ypsilanti Community Schools school board position was a logical next step in what Harrison hopes is a long career in public service.
"Before you go out and do anything, you feel like you have to get your own house in order," he said. "YCS is my house."
Wherever the future takes him, Harrison says he's not likely to stray far from being focused on education and juvenile justice system reform and the dismantling of what he calls "the community-to-prison pipeline."
Tags: 2018, ousearch_News_2018