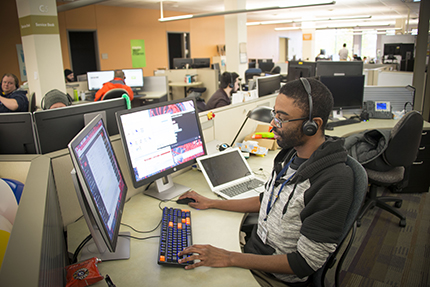 Apprenticeships are typically associated with the skilled trades. You might first think of a plumber or electrician apprentice? Or maybe a welder or carpenter?
That convention is changing and a recent apprenticeship program created by Washtenaw Community College to help Michigan Medicine attract and train aspiring information technology professionals is advancing the cause.
Michigan Medicine's recently launched Service Desk Apprenticeship Program pays entry-level candidates to serve a one-year apprenticeship in frontline technology support, receiving extensive on-the-job training and formal technical coursework at WCC in the process. At the end of the program, apprentices receive a U.S. Department of Labor journeyman's card, earn a 16-credit Computer Systems Technology certificate from WCC and will emerge with a deep knowledge of the IT architecture of a world-renowned medical center. The WCC coursework is paid for by the program.
"Our apprenticeship programs are still primarily focused on manufacturing, but it's really spreading out into all different areas," said Marilyn Donham, WCC's Dean of Apprenticeships. "IT apprenticeships aren't brand new, but Michigan Medicine was the first organization that asked my team to help them create one."
Expanding apprenticeships to more occupations has become a popular suggestion for creating career opportunities for individuals and closing the skills gap that hinders employers from finding qualified candidates. A Harvard Business School study suggests expanding the number of occupations that commonly use apprenticeships from 27 to 74 would equate to 3.3 million jobs that could be filled by apprentices.
Exploring different ways to find job candidates is what led Jarrod Sandel to consult with WCC about a potential apprenticeship program. Sandel manages the service desk for Michigan Medicine's Health Information Technology & Services (HITS). The service desk is responsible for handling more than 250,000 IT-related contacts (calls, online submissions and walk-ins) each year while operating in an industry that averages 40-percent annual turnover.
In recognition of National Apprenticeship Week, Donham and Sandel were invited to appear together on the Lucy Ann Lance Show, broadcast by WLBY AM in Ann Arbor, to discuss the new partnership.
"Apprenticeship has been a proven model for hundreds of years," Sandel said during the November 12 interview, noting the training model dates back to the days of blacksmiths and leather workers. "This is not a new concept. It's just a novel, new approach to a more modern job."
Lousayni Benson is currently enrolled in the apprenticeship program. The 29-year-old Detroit native recently moved back to Michigan after working at an Amazon distribution center in Ohio, where he was exposed to some IT-related work that interested him.
"I wanted to complete my education, but I also needed a job," Benson said. "When I saw this job placement at U-M, it's basically like going back to school and having it paid for. It's going to be pretty amazing when I finish (the apprenticeship). It's going to be a great accomplishment."
And, considering the impetus for Sandel to create the program in the first place, career advancement opportunities isn't an issue for the apprentices.
"It's hard to keep people because … they become familiar with a broad collection of technology and become super attractive for other people in my IT department or other IT departments across southeast Michigan," Sandel said. "To try to keep people in the seats is very difficult and to be able to provide a program that helps to retain them was even more difficult. So, working with WCC was the right choice."
---
Those interested in joining the Service Desk Apprenticeship Program at Michigan Medicine can apply online.
Those interested in learning how Washtenaw Community College can help create a registered apprenticeship program for their organization can visit wccnet.edu/apprenticeships.
Tags: 2018, ousearch_News_2018