A little teamwork by the Washtenaw Community College custodial team, its Recycle Operations department and members of the student honor society Phi Theta Kappa is resulting in significant financial support for WCC students with food insecurities.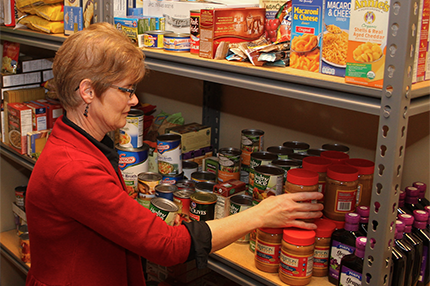 In the Fall 2018 semester, more than $1,200 was raised for the college's Student Resource Center food pantry thanks to those groups rolling up their sleeves and removing returnable cans and bottles from the college's recycling stream.
Recycling Operations Manager Rebecca Andrews calls it a "very beneficial, triple-bottom-line outcome that includes social, environmental and financial factors."
The WCC custodial staff ensures discarded returnables reach the Recycling Operations department, which separates them from other plastic recyclables during its sorting process. Phi Theta Kappa (PTK) members collect the bottles and return them for cash, which is donated directly to the food pantry.
"The team spirit behind this task is incredible, and it shows in the results they have had in a short period of time," said Carol Tinkle, an administrative assistant in the Counseling & Career Planning department who oversees operation of the food pantry. "When PTK said it would be turning returnables into cash, I was pleased they chose the food pantry as the recipient. But the money the pantry has received so far has exceeded our wildest expectations."
The on-campus food pantry relies on donations of cash and goods from the WCC community and outside organizations to keep its shelves well-stocked. Currently enrolled WCC students can receive up to two bags of food and personal hygiene items twice each semester. A Student Resource Center case manager also shares information about other active food banks and hot meal availability in the community.
Tinkle called food insecurity "a real issue at WCC." During the 2017-18 school year, the food pantry served 155 students in need; a nearly 30-percent increase from 2016-17.
"(The food pantry) is another creative way to be able to help students complete their program of study and overcome any temporary challenges they're having," said Student Resource Center manager Liz Orbits. "Resources like the food pantry can mean all the difference in helping students reach their academic goal. Whatever we can do to help that's reasonable and within our scope of practice, we're more than happy to do it."
Students interested in using the food pantry should meet with a Student Resource Center case manager at the Counseling & Career Planning desk on the second floor of the Student Center or call 734-677-5105.
Donations to the pantry can also be made at the Counseling & Career Planning desk.
Tags: 2018, Food Pantry, ousearch_News_2018