Abbee Elwell called it an "awe-inspiring" honor to be chosen as the student speaker at Washtenaw Community College's Winter Honors Convocation ceremony on Thursday, Jan. 24. After all, she knows first-hand that the college is filled with incredible success stories.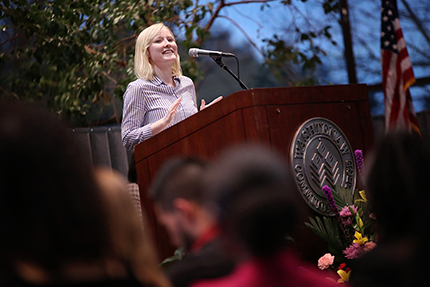 "I'm a Student Ambassador at WCC, and 80-percent of that job is talking to other people. So I'm well aware of the struggles people overcome here to better themselves," Elwell said. "I was hesitant to accept (the offer to speak) because I know my story is probably a lot easier than a lot of people's stories. So instead of trying to preach, I just want to encourage."
Elwell is one of six children who had a typical upbringing in nearby Milan. What's not typical for the situation – she's just 17 years old. She is believed to be the first Honors Convocation speaker that is also a student at Washtenaw Technical Middle College, a Michigan Public School Academy chartered by and located at WCC.
At the end of this academic year, Elwell will simultaneously graduate with her high school diploma from WTMC and an associate degree in General Studies in Math and Natural Sciences. The 3.94 GPA student plans to study economics at a four-year college, with the University of Chicago being at the top of her wish list.
In her speech, Elwell encouraged the other high-achieving students invited to the event to maximize their social opportunities on campus – something she admits can be challenging at a community college full of commuters.
"I didn't leave campus after class. I didn't head into a corner of the library," she said. "I joined clubs. I got a job on campus. I talked to people after class. I invited people to lunch. Now, as I approach graduation, I look back on all the coffees in The Spot, all the walks in the bowl, all the study sessions in the library and my heart sinks a little because I know I'll be somewhere else in a few short months. And even though it does hurt, I have no regrets."
WCC President Dr. Rose B. Bellanca, WCC Board of Trustees member Christina Fleming, Vice President of Instruction Dr. Kimberly Hurns and Dean of Business and Computer Technologies Eva Samulski also spoke at the event. WCC hosts two Honors Convocation ceremonies each year – Winter and Spring – to recognize students who have achieved High Honors on the Dean's List.
The 2019 Winter Convocation honored full-time students with a GPA of 3.8 or higher in Fall 2018 and all Honors (3.5 to 3.79 GPA) and High Honors (3.8 to 4.0 GPA) graduate candidates in Fall 2018 and Spring 2018. The Winter Convocation also honors part-time Honors students who meet specific criteria.
"We hear from our partners in various industries all the time that they need employees who can think analytically and critically – with open minds and creativity. We also hear that employers struggle to find employees with these skills," Bellanca said. "Well, they wouldn't struggle in this room, because your outstanding academic success forms the foundation of these skills."
A list of those qualified students who were invited to the 2019 Winter Honors Convocation:
HIGH HONORS SPRING/SUMMER 2018
Fatma A Aboubakr
Safi Addow Ahmed
Jamie Sue Aldridge
Tuleen Hussein Yaseen Alrawashdeh
Hannah Rose Arnold
Stephen Bagnick
Juan Benitez
Keith M Bizek
Jacob A Blevins
Brielle Marie Brown
Nicholas Santino Capatina
Christina Boyoon Choi
Anne Katherine Cleary
Stephanie Nicole Compton
Chase Richard Cranmer
Benjamin J Evans
Ahmed Ayad Ghalib
Elena Nicole Ghormley
Latasha Hammonds
Brianna Marie Hansen
Olivia Brianne Harvey
Faizan Syed Hassan
Brandon Robert Hepner
Felicia Nicole Hull
Nehemiah Kenneth Kalil Ingram
Kimberlee Deshelle Johnson
Tracey Ann Johnson-Riggins
Ji Young Kang
Joshua Scott Kauffman
Aubrey Keomany- Harju
Amanda N Kimlin
Jessica L King
Caleb Bradford Knapp
Yoonmi Kwon
Maria Lee
Theodore Zhuo Li
Logan Mckenzie Lindeberg
James Lorenz
Kianna Alynn Marquez
Brendan T Mathews
Jeanette D McDonald
Kaela Marie McManus
Nicholas Mcnallen
Jodi Marie Meads
Jacob Allyn Snyder Menke
Kelsey Jean Miklea
Mary Pauline Muise
Nathan R Myyra
Stephen Teamour Nurushev
Nicole Lisa Ortiz
Chanhoon Park
Danielle N Phillips
Joseph Gerard Pintar
Ashlynn Frances Plasters
Anishraja Rajesh
Jessica Ann Randolph
April Lee Reutter
Bryana Christina Robinson
Mary Elizabeth Roehm
Joseph Francis Shelcusky
Daniel Jeremy Sims
Scott D Smith
Olivia Shay Steele
Rekik Kaleab Temeche
Jekoven Armon Tinsley
Lukasz Damian Tunkiewicz
Collin Christian VanLoo
Max Tage Vestergaard
Renee Francess Waggoner
Charles Mark White
Sarah Elizabeth Woolson
HIGH HONORS FALL 2018
Arwa Abdulwahab
Nevada L Abraham
Samer Abu-Farha
Brianne Renee Ackley
Jonathan Acuna
Andrei Kevin Adam
Caden Christopher Adams
Isabelle Gertrude Adrian
Saad Harris Ahmad
Alexis Marie Ajja
Faizan Mohammed Akheel
Reshad Alam
Robert Justin Alexander
Shams Alhussein
Hana Ali
Reem Ali
Samreen Ali
Yara Ali
Moustafa Ali Khalil
Duaa Aljirafi
Alaa Mohammad Al-Kahalah
Ayah M Alomari
Ala H Alsaidy
Alexander Charles Alsop
Andrew Douglas Alsop
Hassan Adel H Al-Thani
Elise Ambriz
Nolan M Anderer
Megan Ann Anderson
Tamara Andronik
Holly E Antal
Raymond Nicholas Apostoleris
Jahn Roque Clemente Aquino
Bradd Daniel Armatis
William Bryant Armstead
Chibuike Bruno Asuzu
Ali Attar
Lene Zainab Awad
Yessine Baalouche
Brian Alden Babcock
Salome Louise Morgane Bacoeur-Ouzillou
Wael Fadluallah Badria
Shyanne Chloe' Bailey
Alyssa Diane Baird
Angelie Ann Baker
James Andrew Baker Jr
Coriya Mahmdu Bakr
Leeam Baldridge
Ryan Matthew Bandy
Sherece LeAnne Bank
Nicholas A Banks
Kaitlyn Grace Barber
Dominic David Bargardi
Justin Henry Barnby
Kamryn Rose Barrett
Benjamin Deaton Bartley
Julianna Bartoszek
Samantha Bartoszek
Taylor Mackenzie Basler
Anaya Camille Bass
Austen Daniel Bates
Natasha Bauchat
Cameron Edward Bauer
Natalie G Baughman
Karly Lee Baumker
Maria Caroline Dela Riva Bautista
Daniel Timothy Bean
Autumn Noel Beauchamp
Patrick Trevor Bedard
Miles M Bednarski
Abdallah Beghidja
Joseph Richard Bell
Ronni Elizabeth Benedict
Amar-Paul Bhullar
Abigail Rose Biehl
Genevieve Catherine Biel
Kyle Sinclair Bishop
Jacob A Blevins
Kurtis Robert Blumenauer
Pei M Boayue
Andrew Boettger
Mallory Nicole Bolda
Marina T Bone
Maxmillian Douglas Bonevich
Sophia Bonnewit
Dalton W Boote
Jacquelyn Cecelia Booth
Ryan T Booth
Matthew Charles Bos
Drew Thomas Bowen
Mackenzie M Bradbear
Chandler J Bradley
Taylor Braham
Megan Marie Brand
Mckenzie-Ann Paetyn Brandly
Hannah Lauren Briggs
Karen Rose Brinker
Anna Victoria Brooks
David James Brooks
Kara Browder
Se'Asia Brown
Siera L Brown
Steven Matthew Brown
Taylor R Brubaker
Cynthia J Bruckner
Jesse Scott Bruner
David R Burby
Brieanna Mercedes Burgess
Margaret Rose Burmeister
Rachel Lynn Burr
Matthew Thaddeus Burtell
Miles Carson Butler
Dylan Mariano Cabildo
Jacob Cacciamani
Alixandra Gabrielle Cady
Jill Shree Cahill
Anthony Dominic Campbell
Madeline Ione Campbell
Adam Steven Campos
Leah Rene Cann
Ling Cao
Shirley Cao
Tracie Lynn Carico
Britta Louisa Carlson
Hailey Jordan Caroen
Brendan Patrick Carr
Daniel Gonzalo Carvacho-Serrano
Austin Caryl
Colin Casterlow
Katie Marie Cavanaugh
Celine A Cetinel
Julie D Chan
Madilyn Qiao Chandler
Taylor Christine Chauncey
Adam Edward Childers
Bilal Chishty
Christina Boyoon Choi
Sara Renee Citizen
Benjamin Sean Claar
Laura Clancy
Alexander Michael Clark
Alexander Emery Clay
Anne Katherine Cleary
Anik Clement
Wayne Lew Cline
Alexander Michael Colarossi
Brookelynn Diane Colf
Anthony Stephen Colton
Stephanie Nicole Compton
Jacob T Condon
Shean Conlon
Eric Connor
Joann Constantinides
Claire Rose Convis
Sean Daniel Cooper
Sister Mary Avi Corpany
Zoe Devlyn Corser
Madison Abigail Cotner
Timothy M Cousino
Mason E Cox
Brennan Keith Coyne
Aaron Thomas Crane
Andrew Patrick Creech
Mary Elizabeth-Autum Curry
Liam Aaren-Martin Curtis
Lama Ayman Daghlas
Sara Anderyos Damo
Nicholas George Danci
Anya D'Arcy
Joshua James Davis
Kelli R Davis
Michael Davis
Connor M Dawber
Ana Carolina De Carvalho Ferreira Andrade
Ezekel Andre Rabago De Manuel
Alexis De Mey
Andrei Del Valle
Sunny Ray De La Serna Del Valle
Matthew Edward DeMarois
Kamryn Marie Depompolo
Agil Arul Dhason
Beatris Diaconescu
Kevin David Diehr
Alaina Rose Diponio
Drew Michael Disler
Schuyler J Distelzweig
Caitlin Uyen-Thuong Do
Peter Denis Donahue
Benjamin Daniel Douglas
Jensen Grace Drewyor
Adam M Druckmiller
Paige Elizabeth Dubisky
Sr Magdalena Durant
Ashley Laura Durio
Alicia Anne Dusseau
Janene June Dusseau
Saskia Lucia Dwarshuis
Jade Alexandria Edwards
Nadine Bassam El -Ghaffir
Jumana Ahmad Elkahlah
Jennevere Catherine Ellington
Morgan Rene Elliott
David Neal Elms
Abigail Lee Elwell
Malachi Enright
Susan Erickson
Dominic Esposito
Bali Michele Evans
Jack Ryan Evans
Campbell Burson Fahle
Matthew Paul Fannin
Brittany L Fanning
Henry David Fanson
Julien Nicholas Faro
Adrian Joshua Fazecas
Jennifer Jeanne Fenchel
Laura B Fidell
Everett Fields
Seamus Michael Fifelski
Lauryn Elizabeth Finley
Alexander Q Finzel
Andrew Stephen Fisher
Jacob Alexander Fitz
Arlo Riley Flynn
Avery Foster
Elizabeth D Franklin
Kirk Russell Fuller
Jack Robert Gaderick
Emily Gagne
Hope Elizabeth Galinis
Nathan Patric Garrison
Declan Richard Gatenby
James Michael Gaydos
Justine Gray Geiger
David Lee Gerding
Katelyn Getz
Ahmed Ayad Ghalib
Elena Nicole Ghormley
Paige Elizabeth Gibb
Dinyelle Gilley
Nicholas John Gilliam
Andrea Gilson
Laura Jose Gimenez Torres
Monica Lynn Givens
Parker Jackson Glushyn
Andrew Steven Goedert
Marina Goetzke
Andrew Golin
Amanda Laurel Goodge
Jacob Daniel Graham
Casey Gratz
Sylvia Maradith Gravel
B'Elanna Green
Irina Gridean
James Richard-Ray Griffin
Madison R Griffin
Adeline Jane Griffith
Raquel Carmen Grogan
Nicholas Jason-Gerald Gronos
Kayla Rose Guess
Kaylee Renee Guzi
Muhammad Adnan Habbal
Fatima Zahra Hafiani
Michelle Renee Halleck
Jay Hamlin
Latasha Hammonds
Kendal Haley Hanby
Gabriel Erik Hanna
Rachel Elisabeth Harding
Zachary Colton Harmon
Mathew C Harms
Carolanne Elizabeth Harris
Tyra Rene Harris
Nicole Suzanne Hart
Alexander M Hartman
Ardeshir Hassani
Jacob Hunter Hastings
Musa Haydar
Dylan A Hazzard
Autumn Rae Heather
Branden L Heifner
Kristi Nicole Hendrickson
Matthew J Henson Jr
Kiara Darquese Herron
Gina Hewitt
Brianna Lynn Heydlauff
Hailey Marie Hilligoss
Karl Vaughan Hinbern
Marieh Waleed Hindawi
Karen Marie Holland
Sydney Isabelle Holmes
Matthew Lee Homrich
Noah D Homyak
Janelle Hoopes
Alejandra Hornak
Caitlyn Horner
Caleb D Howard
Lillian Nicole Howell
Scott R Howison
Breanna Middle Hudson
Naya Monique Huff
Felicia Nicole Hull
Mary Pauline Huotari
Dakota Michael Hurlburt
Natalia Feliz Huyck
Rami Imran
Jeana Leigh Infantino
Dennis Daniel Inglehart
Anzhelika Iugai
Jade Rae Jaarda
Veronica Lynn Jablonski
Denver Rae Tyler Jackson
David James Jarvi
Rebecca Lynn Jaworski
Zhou Jiang
Anthony Ryan Johnson
Brandon Isaac Jones
Kelsey Ava Jones
Meaghan Donna-Louise Jones
Clarisse Asanga Jorah
Chase C Jourden Fuller
Shantrel Bernada Joyner
Lauren Anne Kafara
Nichole Linda Kahl
Philip Michael Kahl
Kinaan Ayman Kana
Joseph Kanny
Ross Michael Kantola
Matthew James Kauffman
Heba Kedir
Britany Lynn Keeton-Brewer
Travis Martin Kellems
Allen Kelley
James R Kelly
Nicholas Ryan Ketchum
Andrea Judith Kiker
Heonjae Kim
Jinseong Kim
Mi Jung Kim
Jessica L King
Flavia Kish
Gerard Anthony Klebba
Carly Klein
Katelyn Kleinhenz
Matthew Evan Klueger
David James Knott
Shanna Michelle Koetsier
Jane Rachelle Kokmeyer
Lucas Kokubo
Isiaka Kone
Connor T Koons
Carston Joseph Koziol
Sara Mackenzie Krebs
Cheng-Chi Ku
Nathan Raymond Kuczajda
Kaden Paul Kumpelis
Ali Hayder Mohammed Kurmasha
Rebecca Marie Kurzyniec
Hyunjung Kwon
Yoonmi Kwon
David Joseph LaBurn
Sr Simeon Marie Lademan
Yasmine Sara Lajimi
Connor Joseph Lakatos
Madison Jeannette Lamb
Samantha Dorthianne Lamb
Valerie Joyce Lammers
Julienne Ekanane Landa
Olivia Grace Landry
Sabrina Lynn Lanker
Maryam Laouiti
Kathryn Elaine Larsen
Jordan Christopher Laski
Athena Dalimah Le
Dong Hyun Lee
Kangju Lee
Kangsung Lee
Ashley Marie Lefever
Elijah Walker Lennington
Hannah Leann Letang
Noah Ries Lewandowski
Maria Mechtilde Lewis
Ou Li
Katherine M Liddell
Cole Alan Lightfoot
Chae O Lim
Anna Grace Lipinski
Abigail Lis
Nathan Michael Lizzio
Kobin Lochey
Olivia Lock
Lailah Michelle Lovejoy
Robert Lovins
Carson Walter Lowell
Elizabeth M Lunning
Hoang Son Minh Luong
Andrea Joy Luurtsema
Andrew John Lyandar
Sr Mary Vianney Lyon
Ian Jacob Macdonald
Heather Lynn Maher
Dagny Mahoney
Raquel Jewel Malcolm
Jason Malone
Chad Earl Mann
Kaitlyn Mann
Gemma Marchant
Nicolas D Marconcin
Vinicius Marconcin
Serena Alexis Rose Marecle
Sabrina Elise Martell
Thomas Christopher Martin
Sarah Maskour
Jenna Rose Mattis
Madeline Louise McArthur
Cheyenne Joy Christa Bea McGuire
Brendan James Mcmann
Darcy Justice McPherson
Katy Elizabeth Mcwilliams
John Marco Melucci
Jacob Allyn Snyder Menke
Ian Lim Menor
Courtney Marie Miatech
Lauren Renee Michaels
Kelsey Jean Miklea
Isaac Paul Mikola
Marika Elizabeth Milkie
Andrew B Miller
Kathryn Violet Miller
Margaret Anne Miller
Richard Bailey Miller
Taylor Marie Miller
Kate Williams Mink
Mark Joshua Reyes Miranda
Ameel Aziz Mirza
Mohamed Abdinasir Mohamed
Mohamed Abdullahi Mohamed
Ehtesham Mohiuddin
Courtney Marie Mommerency
Sarah Rooks Monahan
Christopher A Monaster
Alejandro Moncada-Larrotiz
Leanne F Montagna
Kelly Ann Montei
Raven Kaylynn Montgomery
Nicholas Scott Moody
Kyle Andrew Moon
Alexis Kayla Morgan
Yutaka Morishima
Krystal Couri Morrison
Gabriel Muldoon
Brock Mullins
Grant Mullins
Spencer Mullins
Jaspreet Multani
Mashhood Munir
Gabriela Nicole Munoz
Madelyn Erin Murphy
Madison Elizabeth Myers
Nathan R Myyra
Sydney Veronica Nash
Michael Kirk Neet
Leon William Newbert
Maryjoan Constantine Ngao
Nathan Van Nguyen
Nina Nguyen
Joshua Thomas Nicklin
Alison Connolly Niendorf
Tabitha Suzanne Noe-Byrd
Matthew Frank Nomura
Savannah Sunshine Novakowski
Jennifer Colter Razanaba Nussbaum
Damon Mathew O'Connell
Carleigh M Odoherty
Adara Novah Odum
Anne Mary-Margaret O'Neill
Asrar Abdelmohsin Osman
Kholod K Oudeif
Malia K Overstreet
Richard Paul Paananen Jr
Gavin Gary Pace
Raul Pacheco Garcia
Kristin Denise Pachy
Susannah Joy Pakala
Taras Andrew Palczynski
Bailey Isaac Palmer
Harith Palmer
Daniel Townsend Parker
Haylie Victoria Parks
Dylan Robert Partin
Tasha Nicole Patapoff
Gabriella Alexis Patterson
Matea Pejic
Karla Mariana Perez Y Perez
Lauryn M Perkins
Paula Maria Perry
Christoffer Moroni Peterson
Hristina Petrovic
Jason Phan
Danielle N Phillips
Jeffrey Piazza
William Stratos Plom
Sr Teresa Marie Plunkett
Olivia Lauren Ponce De Leon
Sarah Kate Pondell
Bojana Popara
Dominic R Porta
Matthew Wayne Porter
Amy Janine Potter
Thomas Mansfield Preston
Anthony Matthew Quail
Shashank Rajesh
Joseph Patrick Raney
Jeremy Evan Rauch
Alexandria Christine Rautenberg
Deborah T Ray
Robert Herschel Ray
Alexis Lesley Rea
Dana Lee Reed
Nur Muhammad Renollet
Conner Stephen Rensel
April Lee Reutter
Benjamin Malik Richard
Eric Jon Ries
Taaha Rizwan
Lionel Peter Robert
Chelsea Robinson
Manuel Roberto Rodriguez
Michael Allen-Keith Rogers
Michaelyn Josephine-Lorai Rogers
Jules Marie Romeo
Bryan Araujo Romero
Sommer Marie Rosenthal
Kali L Roskowski
John Alan Ross
Christopher Michael Roulo
Taylor Alyse Rowland
Nathan Elliot Royston
Christen Ruiz
Nicholas Ryan Russell
Robert Alexander Russell
Madilynne Paige Salmon
Lemma Nasser Samaha
Muffideh Ashraf Samaha
Carolina Noelle San Antonio
Brandon Charles Sanders
Maria Therese Sapienza
Vardan Sargsyan
Memorri Rayn Saunders
Alannah Kristine Saxton
John Benjamin Sbisa
Maria Scerbak
Benjamin Alan Schaefer
Randall Hisaji Schliebe
Esther Rose Schmidt
Robert Schnekenburger
Anna Marie Schottin
Celia Delenn Schroeder
Kathleen M Scola
Justin Baek Scott
Emilee Marie Seghi
Rudhik Kalpesh Shah
Miriam Ghassan Shahine
Maaz Ahmed Shariff
Nina J Shepherd
Leighlana Eve Sherman
John Paul Sherry
Preetam Singh Shokar
Naziha Haya Sidawi
Dylan Douglas Siewert
Lee Speidel Simmons
Daniel Jeremy Sims
Anthony Michael Sinay
Makenzie E Smith
Scott D Smith
Sr Basil Marie Smith
Travis Daniel Smith
Hailey Marie Smokovitz
Madison Elizabeth Spaller
Joseph Edward Spindler
Nathan Robert Sprague
Wrenata T Sproat
Travis Alexander Spuller
Hayley Suzanne St-Amour
Matthew Thomas Stelmaszek
Zoe Laurel Stevens
Eliyah Janiece Stevenson
Cassandra Jordan Stewart
Nicholas David Stewart
Hunter Leigh Stites
Ethan Stoermer
Tyler B Stott
Stephen Stranahan
Antonio Giovanni Strang
Isabel Magaly Stratos-Bernal
Teayra Strickland
Nura Sukkar
Zahra Sule
Mark Steven Sulja
Damien James Alexander Sutton
Benjamin James Swastek
Kari Elizabeth Szalay
Aska Bahzad Tahssin
Joshua Robert Dorado Talampas
Sara Inaam Taleb-Agha
Daniel Tarasev
Kendall Taylor
Sharda Marie Taylor
Gabriella Lynn Telemaco
Jose Fernando Terraza Cruz
Brianna Marie Terrell
Julius R.W. Theophilus
Carl Thompson
Blake Austin Thornton
Kelsey Todd
Kotoe Todoroki
Haneen Walid Tout
Rajiv D Trivedi
Shane Michael Trumble
Mollie Michele Turczyn
Lisa Elaine Tyler
Jared Adam-Gowens Utke
Chidera Deborah Uwandu
Chika Divine Uwandu
Gerard James Vaclavek
Adam David Valentine
Grace Nicole Van Beveren
Anthony S Vangelatos
Marko Veljkovic
Emily Ida Vella
Max Tage Vestergaard
Andrew Avraham Vincent
Olivia Susan vonBerge
Kalliopi K Vorias
Theodora C. Vorias
Kathryn Wakevainen
Marissa Ann Walach
Joseph S Walewski
Gianni Rhys Walker
Lisa Courts Walker
Melanie Lena Walker
Robyn Elizabeth Wall
Matthew Henry Wallinga
Jianing Wang
Kendall Josephine Warner
Savannah Grace Warner
Sarah Therese Warzecha
Wilkinson Wathen
Audrey Clare Waugh
Nia Sujata Weems
Jinfang Wei
Holland Wesley
Devin Joseph Wessel
Kristine D Westman
Alexander Grant White
Allison Lee Whitehead
Alyssa Lauren Whittaker
James Theodore Wickman Iv
Zoe Brendan Widmer
Amber M Wiederhold
Jennifer Marie Wiland
Kristina Jo Wilhelm
Anna Caroline Wilkes
Colin Joseph Wilkinson
Torrence Charles-Artease Williams
Colin Josiah Wilson
Samuel Lelan Windsor
Zoya S Winfield
Molly Wing
Kayla Michelle Winter
Madeleine F Wiscombe
Douglas Gale Wishart
Grace E Wissman
Raynelle M Witherspoon
Sydney D Witherspoon
Seonho Woo
Brian David Wood
Claudia Adele Wood
Jenae Leigh Wright
Haoze Wu
Andy Xiao
Aasiyah Yaqub
Patrick Michael Yates
Minjung Yu
Xiaoman Yuan
Brooke Zaugg
Bryan Zavala
Xia Zhang
Yongxin Zheng
Nicholas Brandon Zielinski
Jenna Ruth Zienert
HIGH HONOR GRADUATE CANDIDATES DECEMBER 2018
Safi Addow Ahmed
Logan Raymond Anderson
Sara Rose Anderson
Cindy Carol Andress
Rogayah Y Atifah
Mary Elizabeth Benner
Jeffrey Berger
Cassidy Joy Bergey
Zachary B Bernas
Jordyn Birchmeier
Alexandra Marie Birmingham
Ashley Hope Briskie-Poznanski
Valencia Gayle Brooks
Robert J Brown
Joy Lynn Brunt
Sarah Elizabeth Burns
Michael Thomas Butler
Meghan Elizabeth Campbell
Leah Rene Cann
Daniel Gonzalo Carvacho-Serrano
Serena Danielle Casteels
James Everett Chadwick
Wendy J Chaiken
Ryan Thomas Chapman
Taylor Christine Chauncey
Dale P Christensen
Ty William Christman
Laura Suzanne Cifor
Anthony James Cipponeri
Kendra Clay
Brennan Keith Coyne
Terry Brian Criswell
Corrin Elizabeth Dawson
Megan Joelle Di Dio
Ashley Nicole Dickens
Robert M Dietz
Stephen P Dionisio
Kelly June Duke
Annabella Delprato Ebbs
Celia Delprato Ebbs
Johnnie Engelke
Manuel Ferrer
James M Fogarty
Avery Foster
Arik Anthony Fritz
Dean W Gale
Paul Garcia
Chad D Gaskell
Pamela Ann Gesund
Brad Goldsberry
Alexander Edward Golin
Shannon Elizabeth Hallenbeck
Bettina Anne Hasty
Laurence Hauptman
Tom J Heinonen
Kiara Darquese Herron
Sarah Roseanne Hillard
Trevor Michael Hilobuk
Robert Hodgkin
Thomas Steven Holevinski
Hailee Nicole Hollingsworth
Barbara Sue Huff
Ashley Marie Hukkala
Jawan Samir Ilayan
Zhou Jiang
Alecia R Johnson
Tracey Ann Johnson-Riggins
Ji Young Kang
Matthew Kevin Keska
Matthew Evan Klueger
Misato Kochi
Jane Rachelle Kokmeyer
Mary J Kosinski
Rachel Lynn Kriebel
James Krupp
Bryan LaRoche
Ty N Lewis
Ou Li
Tanya Marie Marrocco-Redmond
Gwendolyn Massey-Bowens
Melina Grayce Mattila
Jenna Rose Mattis
Trenton Mauk
Mason Scott McDonald
Cheyenne Joy Christa Bea McGuire
Jacob Allyn Snyder Menke
Daniel Edward Michael
Katherine Ann Michaels
Geertrui Maria Moerkerke
Alexis Kayla Morgan
Heather Murphy
Marco Alejandro Garcia Naess
Shingo Nagayama
Stephanie Catherine Nagle
Ronney Edwin Neely
Hien Thi Thanh Nguyen
Nicole Elizabeth Nowling
Violeta Yolanda Olague
Nicole Lisa Ortiz
Edith Ostapik
Amal K Oudeif
Patrick John Palmeri
Emma Melissa Parow
Piotr Podsiadlo
Ryan R Poll
Thomas Mansfield Preston
Alexandria Christine Rautenberg
Conner Stephen Rensel
Katte Marie Rondeau
Diego Sandoval
Jamie L Sattler
Karen Schaefer
Casimir F Schesky
Ian Michael Schwenke
Siri Joelle Semmler-Sainsard
Anne Marie Shields
Lisa Katrina Showek
David A Shue
Robert J. Siachitano
Hannah Marie Simon
Andrew Joseph Smith
Hyebeom Song
Joy Lynn Spencer
Jill Marie Steffani
Nicole Renee Steller
Madisen Rose Stewart
Darby Gwin Stipe
Rick James Stubblefield
Kirk Andrew Suchowesky
Jared Eugene Susil
Erica Anne Tack
Aska Bahzad Tahssin
Lisa Marie Terry
Kelly Lynn Toms
Elizabeth M Tripp
Rhonda Mae Truax
Mark D Urian
Tracy Renee Varis
James Kevin Vaughn
Jacob Paul Vellmure
Olivia Susan vonBerge
Valerie Elizabeth Wall
Julie Ann Webb
Janaya Dashe Wells
Charles Mark White
Taylor Elizabeth Williams
Hailey Maria Wolf
Michael Anthony Woods
Sarah Elizabeth Woolson
Ashley Renee Woonton
Wroxanna Lorraine Work
Shaowu Zha
HONORS GRADUATE CANDIDATES DECEMBER 2018
Brittanie Sue Adams
Samuel Paul Ahrens
Brandy Lea Aiken
Chad M Akers
Shiyona Diane Alber
Khaled Sami Aldwaikat
Abdullah Al-Hallak
Fatimah Ahmad Almasarweh
Taha Al-Naimi
Stacy Lynn Amwake
Amanda Marie Andrews
Sarah N Ash
Andrea Dawn Ashe
Ashley Nicole Barth
Benjamin Deaton Bartley
Matthew Thomas-Raymond Bartow
Natalie G Baughman
Ashley A Beard
Elissar Ali Bezih
Matthew John Blair
Andrea Chantey Blevins
Pei M Boayue
Derek Steven Boutell
McKenzie Lynn Bowers
Anna Victoria Brooks
Kara Browder
Lillian Danielle Burch
Whitney Mariette Burkit
Nathaniel Henry Burmeister
Jacqueline I Burt
Eduard Gabriel Capraru
Stephen P Carr
Marissa C. Cervera
Catherine Chin
Kelly Dineen Clarahan
Daniel Lee Coffey
Jeffrey Robert Comstock
Samantha Marie Cote
Timothy M Cousino
Benjamin Daniels
Elliot Lewis Deeds
Joanna Teresa Depa
Kamryn Marie Depompolo
Shelby Lynn Dill
Candice Douglas
Maria Nicole Douthat
Abrar Elisawi
Mark Joseph Florczak
Chelese Precious Frame
Amber Marie-Opal Gallinat
Laura Noelle Galloway
Anthony Vito Garofalo
Christina Guthre Gilbert
Heather Narice Godvin
Brooke Alyse Golembiewski
Paige Susann Gordon
Joanna Sue Gorney
Joshua John Michael Gray
Justin Steven Gray
Larry Ryan Gunderson
Gabrielle Delafuente Hall
Kamaria Belle Hayes
Ethan Nicholas Heinig
Patrick Michael Hennessey
Adam Jozef Jablonski
Lauryn Marie Jackson
Jairen N Janke
Natalie Elise Jarvie
Rebecca Lynn Jaworski
David Jibson
Manda Sarah John Baptiste
Jamie Lee Johnson
Ross Michael Kantola
Egi Karafili
Kali Meghan Kison
Kyra Rose Kitchen
Megan Elizabeth Klosowski
Melissa Marie Konwinski
Matthew John Korona
Ethan Timothy Koski
Rebecca Sue LaPointe
Fernando Jose Latouche Olivo
Doyle Sullivan Levesque
Cameron David Lewis
Garry Shaw Lewis
Rachelle Lee Lockridge
David Richard Long
Katey Lynn Machala
Brenna Leigh MacLeod
Stacie Ann McCartt
Ashley Ryenne McGovern
Diana J McKnight-Morton
Zoe Emily Melcher
Taylor Marie Miller
Mariah Paige Mitchell
Dmitry Mojeluk
Katie Jean Mullins
Darryl Michael Mundrick
Emma Simone Murphy
Frank Najera
Injoh Esther Njung Baya
Jared Michael Nossal
Julia Renee Ochoa-Corante
Curtis W Olmstead
Heydi Yuriela Ortiz-Villanueva
Kristen Ann Owens
Levi Pafford
Vincent Haug Pakela
Chelsea Michelle Parker
Cheryl Lynn Patrick
Derek J Pennington
Amber Nicole Prescott
Eric Benjamin Pullins
Paul Armando Ramos
James Waltman Rand
Jessica Jay Ravizza
Holly Beth Ray
Audra Ann Ready
Madison Renee Rice
Emily K Richardson
Kimberly Ann Rittinger
Alyssa Lee Roberts
Heather Lynn Robinson
Ana P Rodriguez
Justin Daniel Rogers
LeAnn Rae Rooney
John Alan Ross
Justine Nichole Samaha
Kimberly Ann Sanders
Justin Baek Scott
Basil Sharp
Bronte Eleni Shulters
Matthew Brian Simmons
Jonathan Wesley Smart
Steven Andrew St John
David St Pierre
Andrea Joan Stamper
Paul R M Stegink
Amanda May Steward
Jamie Elizabeth Strader
Thomas Sullivan
Dale Elizabeth Swansey
Kelsey Todd
Brianna Siobhan Todd-Marks
Tricia Rose Tucker
Bonnie Rachel Van Sickle
Stanford W Walling
Zachery Warner
Lindsay Watkins
Kaitlyn Marie Whitford
Matthew David Wilken
Qadriyyah Nicole Williams-Phillips
Amanda Marie Wolf
Jodee K Wylie
Preston Alan Zacharias
Julie Marie Zahran
Xinrong Zhao
Madison Nicole Zocher
Berkleigh Mackenzie Zura
HIGH HONORS PART-TIME WINTER 2017-SPRING/SUMMER 2018
Haley Yule Abbott
Feryal Abdo
Muna Ali Abdu
Ghasaq Abdul-Karim
Alaa W Abdullah
Bahar Abrarova
Sharniece Young Acosta
Eduardo Acosta-Munoz
Thomas Edward Acton
Juvirn Suzanne Adams
Holly M Aeschliman
Feryal Hassan Agbaria
Fatima A Ahmad
Mustafa Ahmad
Usaid Ahmad
Najmussahar Ahmed
Michael C Aja
Pujan Ajmera
Onyinye Lilian Akabogu
Reshad Alam
Sadak Albaaj
Khaled Sami Aldwaikat
Albert John Alfonso
Iman Ziyad Ali
Yara Ali
Yasmin Marie Ali
Maha Mohammed Ahmed Aljalali
Duaa Aljirafi
Camille Justine Allen
Zachery Alliston
Hamzah Ali-Yahya Al-Mahdi
Gail Elizabeth Almhiemid
Danyah Mohammad Alomari
Manal Alrawashdeh
Ala H Alsaidy
Robert G Alvarez
Khitam Mohammad Alzaatreh
Katherine Elizabeth Ambrose
Zachary J Ambrose
Glenn Edward Anderson
Kelly Jo Anderson
Logan Raymond Anderson
Sara Rose Anderson
Courtney Anegon
Samra Masud Ansari
Laura Jean Antuna
William Bryant Armstead
Laura Elizabeth Arnett
Kadidiatou Nathalie Ascani
Kenneth Allen Ascher
Noor Suleiman Ashur
Stacy Lynn Atkeson
Christy Aunins
Maham Azhar
Aya Saad Aziz
Selamawit Mamo Azmera
Alexandria Elisabeth Bageris
Felicity Leann Bailey
Oumarou Baissa
Allison Nicole Baker
Henry Brian Baker
Patricia Ann Balcom
Rachel Elizabeth Baranowski
Taylor Carole Baranowski
Kelsie Carol Barber
Michaela Marie Barber
Maysa Fontoura Barbosa
Elizabeth Barrett
Benjamin Deaton Bartley
Scott A Baty
Andrew David Baxter
Sarah Beauchamp
Heidi Renee Bechtel
Courtney Lynn Beck
Ryan Edward Bederka
Sierra Mei-Xing Bell
Andrew Michael Benjamin
Logan Matthew Benner
Andrew Bennett
Phoebe Joy Bennett
Michelle A Bennetts
Peter S Benson
Emma Ray Bentley
Taryn Morgan Bergman
Michael Allen Berndt
Jessica Ann Beyer
Brianne Lee Bigelow
Kolin Biggs
Savannah Rose Billcheck
Neha Mayur Birla
Jade M Bishop
Matthew Paul Blossom
Samantha Kae Bodnar
Julia Elizabeth Bogan
Jacob Russell Bogarin
Michelle Bolanos
John William Bolt
Cheri Ann Bondie
Lauren Kelli Bone
Samantha Nicole Bordeaux
Jeffrey Thomas Borener
Derek Steven Boutell
Alexander Edwin Bowman
Rebecca Sue Boyer
Taylor Braham
Dylan Robert Brant
Megan Elaine Braun
Hannah Lauren Briggs
Ashley Hope Briskie-Poznanski
Tawnee Brodie
Anna Victoria Brooks
Bethany Suzanne Brooks
Valencia Gayle Brooks
Galen Christopher Broski
Samantha Jeanne Brossard
Chloe Soleil Brown
Rose Brown
Tiffany Anita Brown
Lillian Danielle Burch
Morgan Eden Burgard
Spencer Evan Burke
Dawn Burke-Allie
Margaret Rose Burmeister
Ian Douglas Bursch
Kasondra Lelyn Bury
Matthew James Bury
Caitlin Marie Bussey
Dylan Mariano Cabildo
Viktor Cakmak
Tyrus Archer Caldwell
Anda-Alexandra Calinescu
Marina Gabrielle Calvachi
Maryanna Campbell
Meghan Elizabeth Campbell
Brooke Elizabeth Cancilliari
Eduard Gabriel Capraru
Javier Cardenas
Sarah Nita Carlson
Sammy Caronongan
Kenneth Carpenter
Stephen P Carr
Carmen Carrillo
Laura Casan Chirivella
Serena Danielle Casteels
Lucero Castillo Castillo
Seth Christopher Cavanaugh
Eden Michelle Cepela
Emily Kristine Ceresa
Wendy J Chaiken
Jason Forrest Chappel
Bradley Andrew Chardenet
Michelle Lee Chaves
Alejandro Stephen Chavez
Ariel Emilio Checo
Melissa Eve Checo
Jonathan Chen
Christopher Chesno
Robert Clayton Chester
Yoonie Jung Yoon Cho
Michael Jonathan Cicirelli
Aram Cimonian
Christopher Ryan Claeys
Emily Catherine Clark
George Robert Clark
Joseph M Clark
Kendra Clay
Maicie Alyse Clinansmith
David Aron Coleman
BreAnna Danielle Colf
Christopher Albert Collins
Michael Conway
Hope Marie Copley
Clark Thomas Coriell
Ben Alex Cossey
Anthony Thomas Costantino
Samantha Marie Cote
Katlin Marie Cottrell
Catherine Sharon Coveyou
Erin Alexandra Cox
Hui Liu Cranford
Laura Lyjak Crawford
Nicole T Crawford
Jillian Lisse Crimmins
Anabel Eugenia Cruz
Rebecca A Cunningham
Jennifer Lynn Curley
Devin Christine Curl-Tom
Liam Aaren-Martin Curtis
Nora Elisabeth Curtis
Kira Lynn D'Agostino
LaShonda Lashey-Latrice Dailey
Ibrahim Mohammed Yacoub Dajani
Sara Anderyos Damo
John Daoud
Steven Charles Davis
Tiffany Collet Davis
Jade Lynn de Gracia
Ryan Deboer
Bryan G DeGrendel
Jessica Elaina Delagarza
Katelin Marie Delph
Lynsey Anne Demyan
Joanna Teresa Depa
Jonathan Paul DeRoo
Dexter DeShantz-Cook
Kerstin Olivia Deters
Kathy E Dew
Regina Marie Dick
Ashley Nicole Dickens
Ramon Isaac Diego
Anastacia Paige Marie Dirks
Brenna Erin Dirkse
Ashley Jo Dolan
Daniel Joseph Donato
Titus L Dorobantu
Elizabeth Dorsch
Elizabeth Ann Doucette
Savannah Lee Dougherty
Kenneth Douglass
Katrina P Dowdy
James Steven Downing
Sean Thomas Driscoll
Alexa Floretta Druckmiller
Collin Joseph Drumm
Gregory G Dryer
Nicole Ann Dulinski
Megan Michelle Dunn
Christine Anne Dupree
Janene June Dusseau
Katelyn Ann Dzedzie
James Marshall Eastman
Tajha Monae Eddins
Bridgette Nicole Edwards
Jamie Anne Eidsath
Nemat Charif El Helou
Kaleb Anthony Elekonich
Reham N Elfarmawy
David Neal Elms
Maxwell W Empson
Abimael J Encarnacion
Ryleigh Catherine Ender
Cintya Josselin Escalona-Mena
Miguel Enrique Escobar
Dominic Esposito
Stephanie Evangelista
Chauncy Joseph Evers
Denise Marie Facione
Jonathon Joseph Faeth
Tiffany Christeena Faz
Adrian Joshua Fazecas
Nicole M Fearer
Benjamin Landon Fellows
Jill Janine Ferris
Justin Michael-Robert Fetters
Jeselyn Mari Figley
Margaret Frances Fil
Brandice Lee Finfer
Colwyn Thure Fischbach
Angela Sunshine Fitzgerald
Margaret Mary Florczak
Maria Therese Florczak
Mark Joseph Florczak
Alexander D Flores
Rachael Lynn Flores
David Bradford Foley
Christian Robert Ford
Gloriala Paige Graciela Ford
Samuel A Fossum
Randi Lynn Foster De Quintana
Carmela A Foster-Witherspoon
Noah Michael Fowler
Matthew Dale Fox
Debra Lynn Foye
Jenelle Nichole Franklin
Sarah Ann French
Michael Fried
Jonathan Paul Frontier
Artemis Stephanie Fuchs
Kelli Rose Fugate
Nina Frances Fuller
Erin Marie Fullerton
Cyrus Duncan Furbush
Stephanie Jean Gagnon
Brianna E Gallagher
Mary Gallagher
Marissa Renai Gallinger
Laura Noelle Galloway
Ashley Elizabeth Garcia
Nathan Giles Washburn Gardner
Renee D Gaudet
Heather June Gauthier
Pamela Ann Gesund
Katelyn Getz
Paul P Giese
Chelsea Marie Gilbert
Seth Philip Giles
Kylie Scout Gilligan
Shannon Sue Gilroy
Allison Laura Giniel
Grant Thomas Goad
Christine L Goble
Justin Peter Godfrey
James Marshall Goff
Bobby Ray Golden
Caroline Marie Golding
Claire K Golec
Weevern Gong
Ahmad Hasan Gonzalez
Elena Patricia Gonzalez
Justin M Gooch
Tristin Goodwin
Taylor Alexandra Gora
Rebecca Lynn Gordon
Kaitlyn Jane Gordy
Devon Zachary Gosnick
Sherrie Ann Graichen
Paris J Gray
Ross A Green
Willard H Green
Sarah K Greenburg
Tammara LaRell Greenfield-Hardeman
Michael Ryan Greer
Samantha Chelsea Griffin
Fenyd Grobsmith
Nicholas N Gross
Randi Marie Gross
Siera Janae Grupido
James Andrew Gullen
Kaylee Renee Guzi
Jennifer Lynn Hagan
Mandy Ann Hall
Shannon Elizabeth Hallenbeck
Mohamed Hani Hamidi
Caylee Cameron Hamilton
Amber Faith Han
Benson Xuan Hang
Alexie Janay-Marie Harper
Jason Daniel Harper
Benjamin Thomas Harris
Nicholas James Harris
Danielle Marie Harrison
Brooke Marie Hartman
Juliet L Harvey
Ala Izzeddin Hasan
Elizabeth Hope Hathaway
Theodore Hauke
Carrie Hawkins
Britney Elaine Hayes
Micah Jose Hayes
Rebecca Lynn Heberlein
Dylan Carter Hedblad
Julia Eve Heinig
Tom J Heinonen
Joseph Robert Helbig
Alice Lindsay Held
David C Hendershot
Meghan Elizabeth Hendershot
Pamela A Hennigan
Hyun Jung Her
Shannon Herbst
Kayse Geselle Herrera
Michael Dennis Herrst
Katherine E Hersberger
Devin Duke Hewitt
Robert Henry Hiemstra
Bradley James Higgins
Darcie Marie Hill
Zack Hill
Sarah Roseanne Hillard
Jonathan M Hirsch
Kirk David Hissong
Emily Katherine Hoard
Kay-Lee Ann Hodroj
Laci Jo Hoffman
Hailee Nicole Hollingsworth
Elizabeth Kathryn Hollmann
Marie Elizabeth Holquist
Mark Edward Holsey
Laurel Margaret Hooker
Layton Riley Howe
Barbara Sue Huff
Tyler Cole Huffman
Ashley Marie Hukkala
Kira Marie Hunter
Lorel Witmer Hurst
Amal Husein
Marisa E Huston
Adewole Ayotomiwa Ibironke
Jeana Leigh Infantino
Kayli Ann Irvine
Lauryn Marie Jackson
Natalie Elise Jarvie
Carol Jenkins
Morgan Georgia Jennings
Stephanie Marie Jensen
David Jibson
Manda Sarah John Baptiste
Hailey Margrett Johnson
James Northrop Johnson
Nicholas Howard Johnson
Ian Deleon Jones
Tanisha Charnise-Watkin Jones
Lawren Rose Juip
Francisco Alberto Julian
Malia Ann Kah
Caitlyn Maurine Kalinovik
Peter Musyoki Kamuti
Kinaan Ayman Kana
Ji Young Kang
Paul T Kasdorf
Christopher David Kauffman
Kamaljit Kaur
Wendy Lee Keezer
Kevin Charles Kehrer
Megan Gabrielle Kelly
Maria Khan
Zafer Samir Khourdaji
Jacob A Kidd
Brayla Madison Kierczak
Jacob D Kim
Marianne Nicole King
Jessica Ann Kisia
Jacob G Kitley
Geralyn Sue Klein
Logan Robert Klein
Jessica Ann Klimala
Shanna Michelle Koetsier
Chelsea Ayumi Koga
Jeffrey Michael Konczak
Jacob Thomas Kopka
Mary J Kosinski
Ethan Timothy Koski
Ibrahim Kourouma
Wade Kovach
Maxwell Daniel Kowalczyk
Koukoura Tandjom Kpabeba
Jordan Nicole Kraft
Thomas W Kreitzer
Samuel D Kremke
Melissa Mary Kreutz
Remy Hunter Krey
Sarah A Kryk
Cleo Ku
Scottland R Kuchta
Alexander Raymond Kumke
Nicholas Jasper Kumke
Olivia Kumke
Fatimah Hayder Kurmasha
Branden Labra
Ari Matti Lahtinen
Grace Andreea Lamb
Jacob John Lamb
Julienne Ekanane Landa
Veronica Teresamarie Lapczynski
Elizabeth Jane LaRocca
Noelle E Larose
Cody Scott Larson
Andrea E Lattimore
Shelby Laupp
John Robert Law
Marley Leathers
Alexis Breyon LeBlanc
Caren Adonis Lechner
Alexis Brookelyn Lee
Jamie G Lee
Denille Ann Lentz
Laura Jane Leonard
Kristina N A Lewis
Princess Lewis
Ty N Lewis
Erica Lynn Ley
Jianing Li
Liang Lin
Alyssa Eden Lince
Dana Nikia Littlejohn
Rachelle Lee Lockridge
Corey June Lofthouse
Salvatore Lombardo
Leah Anne Long
Lauren Diamond Longtin
Justin Loukotka
Marina Alexandrovna Loutts
Michael Thomas Lovelace
Teresa Ann Lowell
Joseph Anthony Lussier
Andrea Jo Lynn
Eric Kaito Mackie
John C Maclean
Serena MacLean
Svetlana Madi
Tomeka Major
Brittany Kay Marshall
Margaret Mary Marshall
Mabel Martin
Terry Len Marts
Mathew Robert Mason
Chase Curtis Masten
Haley Marie Mastro
Brendan T Mathews
Scot Wesley Mathison
Victor Dusan Matovski
Emiliano Antonio Matteo
William Andrew Joseph Matteson
Vincent Lewis Matthews
Jenna Rose Mattis
Karen Anne Mattson
Daniel P Maurer
Rebecca L May
Natasha Maria Maynard
Nicholas Charles McAllister
Elias McCabe
Jada Sojourner McCarthy
Daniel Glenn McComber
Bethany McCormick
Lisa Renee Mccormick
Kimari Ailene McCoy
Pierce Joseph McDole
Daniel Stephen McDonald
Edward Michael Mcdonald
Jordan Nicole McDougall
Casey Lynne McDurmon
Olivia Erin McEldery
Nyla Michelle Mcfadden
Cheyenne Joy Christa Bea McGuire
Michelle Noel McIntyre
Darcy Justice McPherson
Kevin D McTigue
Sandra Marie Melvin
Raelynn Marie Menard
Emma Rebecca Mendoza
Tyler Joseph-Ernest Mescall
Jennifer Mary Meston
Justin L Meyer
Kira Carolyn Mich
Collin Brice Michael
Lynn Anne Mick
Zachary James Mielke
Vanessa Renee Mihela
Alessandra Milea Bertuccelli
Geoffrey Sean Miller
Kathryn Violet Miller
Margaret Anne Miller
Rebekah Ann Miller
Taylor Marie Miller
Matthew Paul Milliman
Amber Dawn Miracle
Elizabeth Noel Mitchel
Geertrui Maria Moerkerke
Mohamed Abdullahi Mohamed
Eman Mohammed Azizi
Nandhini Mohanraji
Jordan Andrew Moizio
Erik Alexander Molotky
Evan Mark Molotky
Brittany M Moomaw
Ryan Thomas Mooney
Chelsea Moore
Jeanetta Denise Moore
Shadi Moradi
Jane M Moran
Aja Alicia Moses
Richard Kyle Mudge
Robert J Mueller
Therese Marie Muise
Armando Mukja
Ashley Keyawna Mullice
Katie Jean Mullins
Darryl Michael Mundrick
David Munoz
Alexandria M Murphy
Kelsy Alexanrda Murphy
Leslie Nicole Murray
Bailey A Muylaert
Shingo Nagayama
Michael Kirk Neet
Kurt Arnold Neikart
Candace N Nelsen
Alexander Jacob Nelson
Cailin Marie Neubert
Hoi Yan Ng
Miranda Berake Ngala
Han Thi Bao Nguyen
Jacob D Nie
Jonah Matthew Niemi
Derik R Niezurawski
Injoh Esther Njung Baya
Brenda F Noble
Eric Andrews Nofs
John Edward Nordbeck
Nicholas Anthony Nouhan
Tamara Nutas
Ryan Matthew Oberle
Michael Douglas Oberstaedt
Violeta Yolanda Olague
Elizabeth Ann Olenzek
Hannah Lesley Oorebeek
Jason Matthew O'Rear
Joe Angel Ortiz
Edith Ostapik
Bushra Ahmed Ottaifa
Zarife Ozturk
Shayna Luelle Palinkas
Angela Rose Palmer
Patrick John Palmeri
Andrew Christian Pampreen
Cosmo Forest Xavier Pappas
Johannes Pardi
Andrew Jinhwee Park
Chelsea Michelle Parker
Kannika Parks
Emma Melissa Parow
Kirsten Ann Parr-Matthews
Alexandria Marissa Parsagian
Jason E Parsons
Scott Michael Paschke
Evan Pasternak
Cheryl Lynn Patrick
Penny Mae Patterson
Brooklyn Jade Paul
Fushia Peay
Monica Cecilia Pedroza
Delia Jessica Pelean
Annabella Catherine Pense
Brandon Christopher Periord
John Patrick Perzyk
Caroline M Petrovich
Kimberly Pflug
Lana C Phillips
Maren Michael Pieronek
Alexander S Pizana
Monica Renee Place
Jodene Gs Poirier
Ryan R Poll
Andrei Pop
Blake Porter
Michele R Powell
Matthew Praedel
Daniel Jacob Pratt
Stephanie Marie Prechter
Thomas Mansfield Preston
Jacob Stanley Priebe
Rose Marie Prucknic
Kylee Beth Pulver
Gabriel Impe Puno
Troy J Purcell
Michael Christopher Purta
Tracy Puvalowski
Zeba Qasimi
Walid Mohammed Qoronfleh
Kathleen A Quintus
David L Radau
Eric J Rahrig
Erita Rakipi
Andrew J Randall
Paul Randall
Jennifer Elizabeth Rankin
Owen Scott Rasegan
Daniel Joseph Raubolt
Holly Beth Ray
Shannon Lee Rednour
Kimberly Ann Reeves
Shannon Marie Reeves
Sofia Fatima Rehmathullah
Ethan Reynolds
Ta'mar R Reynolds
Lydia Layland Richards
Emily K Richardson
Jason Robert Riggs
Brandon Allan Rinesmith
Timothy Bruce Ritter
Heidi P Robb
Sarina Marie Roberts
Gloria Grace Robertson
Kelsie Marie Rodgers
Moris Ulises Rodriguez
Leonardo Lucas Rodriguez Moran
Abigail K Roe
Jasmine Marie-Reese Rogan
Benjamin Charles Rogers
Debra Lynn Rollins
Rebecca Joyce Rose
Cody Rosinski
Samantha Anne Rosochacki
Nicholas James Rucker
Joshua Michael Rundel
Joseph Quentin Russell
Katherine Saalberg Saalberg
Zeb Sadiq
Daniel Matthew Sai
Mishka S Sajjadi
Amnuai Sakunrak
James A Salay
Malek Ehab Samaha
Jamie L Sattler
Stephanie Saunders
Benjamin Joseph Schauder
Wendy Iona Scheffler
Kayley Amber Mae Schiller
Kimberly Gail Schimmelfennig
Matthew E Schimmelfennig
Nicole Constance Schlicht
Melia Hatsue Schliebe
Erich Wolf Schmaler
Daniel Raymond Schmeichel
Victoria Anne Schreck
Emily Jenae Schrock
Emily Adele Schubert
Ian Michael Schwenke
Austin J Scott
Elizabeth Ashley Scott-Ryon
Carolyn Seabury
Kathryn Anne Seale
Julia Selig
Rudhik Kalpesh Shah
Barbara Renee-Ashlee Shala
Heather Michelle Shamie
Maaz Ahmed Shariff
Basil Sharp
Omar Syed-Jawwad Shaukat
Olivia Christine Shay
Courtney Marie Shearon
Cheryl Shepard
Audrey L Shepherd
Trevor Allen Sherwood
Anne Marie Shields
Jamie LeAnne Shillington
Emily Jean Short
Gunner Austin Shosey
Lisa Katrina Showek
Isaiah James Shurtliff
Daniel Joseph Simmonds
Sara Simmons
Gavan M Simon
Christopher Scott Simonson
Jeffrey Kenneth Skalski
Betty Jane Slessor
Gage Edward Smego
Anne Marie-Maynard Smiarowski
Aiden Carlton Smith
Allison Rae Smith
Benjamin William Smith
Cynthia Smith
Justin Daniel Smith
Leon Smith
Matthew Joseph Smith
Mikki Lynn Smith
Miranda Smith
Willow Elizabeth Smith
Michael John Snell
Jacob Michael Sochacki
Nikita Swapnil Sohani
John Joseph Solak
Stephanie Lynn Sonnichsen
Brianna Marie Sopko
Souad Ahmed Souedan
Hayden Robert Sowa
Cody Michael Spaller
Claudia Spencer
Steven Andrew St John
Andrew James Stachowiak
Jacob Dueane Stahl
Daemon Jacob Stahlin
Andrea Joan Stamper
Clare Anne Stando
James Monroe Starnes
Jarrett K Stauch
Brandon William Steele
Emily Lynn Steger
Travis Stein
Todd Raymond Steinberg
Stephanie Ann Steiner
Nicole Renee Steller
Steven James Stevenson
Milik Wanike Steward
Madisen Rose Stewart
Elliot Martin Stock
Kyle James Stone
Victoria M Storms
Corey Lea Strange
Darlene L Straub
James Francis Sugent
Christopher J.W. Swanwick
David Duane Swartzlander
Amy Louise Swek
Sharon Rae Swisher
Ashley R Szpara
Erica Anne Tack
Natalie Hope Tackett
Audrey Nichole Talbot
Jacob G Taylor
Nicole Adrianne Taylor
Sharda Marie Taylor
Muhammad I Tello
Rekik Kaleab Temeche
Lisa Marie Terry
Joanna Kay Thelen
Haley Makay Thomas
Jacqueline D Thomas
Lee Solomon Thompson-Kolar
Chad Dillon Thomson
Rachel Wu Thouless
Sandra Tighe
John Charles Timm
Brianna Siobhan Todd-Marks
Benjamin Wasonga Tolo
Kathryn Leigh Tomlin
Tenea Racqual Tooson
Cassandra Jo Torres
Christian Manuel Torres
Elizabeth Torres
Rima Samir Tout
Connor Nicholas Trapp
Dominic Trentadue
Cameron Wilfred Tripp
Micah Brittney Troup
Rhonda Mae Truax
Rachel Victoria Trudeau
Lindsey Suzanne Turek
Laura Turnbull
Adam Robert Tyler
Jane Marie Tyler
Lisa Elaine Tyler
Kennard Lee Van Camp
Brian Kenneth Vanfleteren
Anthony S Vangelatos
Tracy Renee Varis
Carlos Omar Vasquez
James Kevin Vaughn
Shaquaya Charisse Vaughn
Rose Marie Veilleux
Amy Lynn Verkerk
Dennis Caleb Villegas
Marquita Lee Vinson
Angela Beth Vitale
Tihana Vojvodic
Margaret Voorheis
Ryan David Voss
Wesley R Voss
Somood Ahmad Wadi
Xiuqin Walker
Christina Teresa Wallag
Stanford W Walling
Yijing Wang
Jacob Michael Ward
Alicia Warden
Marianne Warner
Abigail C Warren
Bethany Anna Waters
Christina Marie Waybrant
James Thomas Weaver
Devin Jared Weckstein
Sarah Kristine Weiner
Alexandra Weinert
Kelsey G Weins
Janaya Dashe Wells
Sarah Elizabeth Wensley
Jayson Matthew White
Joi Janelle White
Jason Charles Whitmer
Peter A Whitmore
Ryan Curtis Whitney
Evan Robert Wieczorek
James Harold Wiegand
Jamie M Wikaryasz
Daniel Steven Wilcox
Bailey Rose Williams
Carrie Ann Williams
Christine Rose Williams
Joy Jenee Williams
Heather Anne Willingham
Andrea Ruth Wilseck
Bryan Grant Wilson
Cindy Maria Wilson
Evan Patrick Wilson
Molly Wing
Corey Landis Winters
Madison Lynn Witter
Joseph R Wittmann
Hailey Maria Wolf
Cheri Marie Wollack
Stephanie L Wolyniak
Brian David Wood
Emily Ann Wood
Karli Anne Wood
Carmen J Woods
Martha Anne Woolson
Ashley Renee Woonton
Ryan Bruce Worden
Malaika Worsham
Jody Marguerite Kett Wright
Skyler Laine Wroblewski
Sarah Yanping Wu
Yifan Wu
Stephanie Marie Xu
Douglas Gregory Yeo
Ryan William York
Qian Niu Young
Victor N Yousof
Xiaoman Yuan
Maya Maha Zaitounh
Kristi Lynn Zeestraten
Cara Rose Zenker
Micaha Mary Zerod
Jianli Zhang
Lihui Zhang
Mingmin Zhu
Rabeeha Ayman Zindah
Michael W Zissler
Brittany Nicole Zitnik
Adela Ziu
Amanda Mae Zopf
Keely Erin Zuri