February 11, 2019 Richard Rezler
Two Washtenaw Community College students are among the semifinalists for a prestigious Cooke Undergraduate Transfer Scholarship.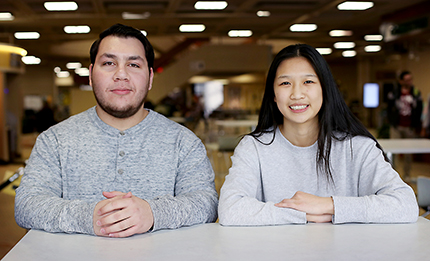 Ahmed Ghalib and Jianing "Vivian" Wang are on the 2019 semifinalists list, selected by the Jack Kent Cooke Foundation from a pool of nearly 1,500 applicants attending 369 community colleges in 45 states and the District of Columbia.
Winners will be announced in April.
The scholarships are awarded to high-achieving community college students that intend to transfer to top-tier, four-year institutions to complete their bachelor's degrees. Each selected scholar is provided financial support of up to $40,000 per year for three years, college planning services, ongoing advising and the opportunity to connect with the community of fellow Cooke Scholars.
In 2018, Washtenaw Community College student Paula Salazar was the only Michigan student among the 47 Cooke Undergraduate Transfer Scholarship winners. She is now studying International Affairs at James Madison College, a residential college at Michigan State University that offers world-class public affairs and public policy programs.
About WCC's 2019 semifinalists:
Ahmed Ghalib
Ghalib, a Pioneer High School graduate, is a 4.0 Computer Science student and member of the college's chapter of the Phi Theta Kappa honor society. He was selected to participate in the University of Michigan School of Information's Community College Summer Institute Fellowship and plans to transfer to a four-year university to pursue an Information Science degree in the fall. He lists Cornell, Columbia and USC as his dream schools.
Ghalib was born in Baghdad, Iraq, and came to the United States with his family in 2008. He graduated from Pioneer in 2015 and worked for two years in retail and hospitality positions while focusing on his own tech-related project during his free time. He enrolled at WCC in 2017 so he could become more technically involved with other engineers in that software venture.
"I have been more than fortunate to have spent the past two years at WCC," Ghalib said. "Beyond the priceless education and personal skills developed at this institution lies the foundation of its greatness – the instructors. They've made a profound impact on my life, personality and mindset. I will forever be in debt to their efforts, kindness and wisdom."
Jianing 'Vivian' Wang
Wang is on the verge of completing her WCC Associate in Science Degree in General Studies in Math and Natural Sciences and an advanced certificate in C++ Programming with a 3.95 GPA.
The international student from the Jilin province of Northeast China came to the United States in 2015 and graduated from Rudolf Steiner High School in Ann Arbor in 2017. She works as a Student Ambassador at WCC, is a member of the Phi Theta Kappa honor society and is the founder and president of "Transfer to Success," a student group that invites alumni who have transferred to four-year institutions back to campus to share their lessons learned.
Wang plans to transfer to the School of Engineering at the University of Michigan and major in Computer Science. She hopes to spend her career as a software engineer designing software to facilitate learning for students with disabilities; including starting her own company that focuses on creating learning tools for physically and mentally challenged children.
"WCC has helped me to learn myself better and give me opportunities to be more successful," Wang said. "I am hoping to continue enhancing my knowledge and skills to give back to the community."
Cooke Transfer Scholars are selected based on exceptional academic ability and achievement, financial need, persistence, service to others and leadership. Students must be currently enrolled community college students residing in the United States.
"Countless highly-talented and motivated students begin their college experience at community college, and our recent 'Persistence' report shows that they excel after they transfer," said Seppy Basili, executive director of the Jack Kent Cooke Foundation. "We're pleased to recognize this incredible cohort of semifinalists for their academic drive and achievement."
Tags: Cooke Undergraduate Transfer Scholarship, ousearch_News_2019