Washtenaw Community College has earned the distinction of Tree Campus USA from the Arbor Day Foundation for the third consecutive year.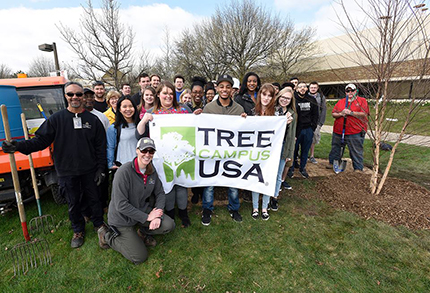 "We are very excited to have earned the Tree Campus USA distinction again," said WCC Landscape and Grounds Manager Holly Herman. "It represents our commitment to proper tree care, as well as our ongoing effort to involve the campus community in good urban forest management."
WCC achieved the title by meeting Tree Campus USA's five standards, which include maintaining a tree advisory committee, a campus tree-care plan, dedicated annual expenditures for its campus tree program, an Arbor Day observance and a student service-learning project.
The Landscape and Grounds department at WCC inventories and maintains approximately 1,600 trees, a total that does not include the natural forest areas located outside the campus' 147 acres of maintained grounds.
Over the past year, the department met two key goals by increasing participation in service learning activities and removing invasive species as part of its tree care plan.
Three campus tree walks were offered throughout the year, including one as a community class during Free College Day. An invasive species removal workshop was initiated by the Students for Sustainability Club, during which students removed buckthorn in forested areas of campus under the direction of Landscape and Grounds crew members.
WCC was one of five Michigan campuses honored last year, joining the University of Michigan, Michigan State University, Western Michigan University and Calvin College. The organization has not released this year's complete list of honorees.
"Tree Campuses and their students set examples for not only their student bodies but the surrounding communities showcasing how trees create a healthier environment," said Dan Lambe, president of the Arbor Day Foundation. "Because of your school's participation air will be purer, water cleaner and your students and faculty will be surrounded by the shade and beauty the trees provide."
The Arbor Day Foundation has helped campuses throughout the country plant thousands of trees, and Tree Campus USA colleges and universities invested more than $51 million in campus forest management last year. More information about the program is available at arborday.org/TreeCampusUSA.
Tags: Holly Herman, Landscape and Grounds, Tree Campus USA, ousearch_News_2019