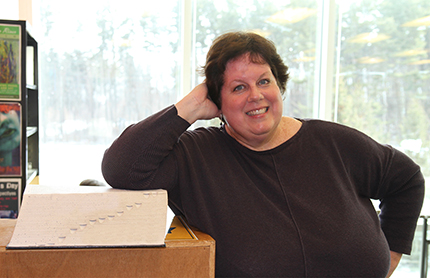 There are more than 476,000 entries in the unabridged Webster's Third New International Dictionary. Betsy Foss is responsible for picking out a few dozen of the best, most interesting and most challenging words from the tome.
A Humanities, Social & Behavioral Sciences faculty member at Washtenaw Community College who specializes in English-as-a-Second-Language instruction, Foss has found a new outlet for her love of words. She'll serve as the word caller at the Family Learning Institute's 13th annual Spelling Bee & Silent Auction fundraiser, being held at 6 p.m. on Friday, March 8 in the Morris Lawrence Building on the WCC campus.
While this is her first time calling out the words to be spelled by the 15 teams of three adults vying for the annual title, Foss is no newcomer to the event. She was part of WCC teams that won the spelling bee in 2014 and 2015 and was runner-up in 2016.
The last two years, Foss left competing to others and became involved with the production of the spelling bee. She was responsible for word selection and judging. This year, she adds word caller to her list of responsibilities.
It's a natural fit for an avid and multilingual reader (she has studied French, Spanish, Italian and Chinese) who is fascinated by roots, etymology, diacritics and other things that fascinate spelling bee lovers.
"The bee appeals to me because I can truly get my spelling geek on," Foss says. "In addition to that, though, I truly love the mission of the Family Learning Institute."
The Family Learning Institute is a non-profit organization that provides free one-on-one tutoring services to economically disadvantaged children in Ypsilanti and Ann Arbor.
"Their results are stunning," Foss says. "The focused attention that each child gets by meeting with the same tutor every week for a year has helped children boost their reading levels rapidly."
The spelling bee's 15-team field has been formed – and it once again includes a team of WCC faculty members – but the community is invited to purchase a ticket to watch the competition. Last year's event drew a crowd of more than 100 and raised $30,000, according to a story on MLive.
WCC's team will include Biology department co-chair Anne Heise and Creative Writing/Composition instructor Amy Higgins.
Tickets for this year's event are available at the FLI website. Attendees can also enjoy food and beverages, bid on silent auction items, and participate in a wine pull.
Tags: Betsy Foss, ESL, fundraiser, ousearch_News_2019