Washtenaw Community College faculty and staff members were recognized Thursday, April 4 for making a positive impact on students' academic, professional and personal lives.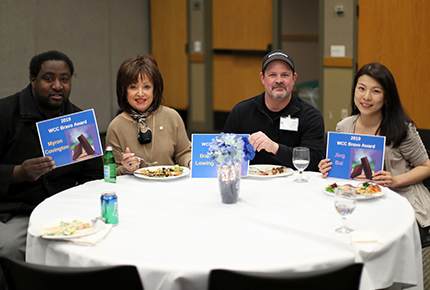 A total of 131 WCC employees from various areas and disciplines around the college were nominated by students to receive a Bravo Award. All nominees were invited to a luncheon to be honored and receive a certificate and gift of appreciation.
RELATED: See photos from the event on our Flickr page.
The event is co-hosted by the Office of the President and the Student Activities office.
WCC President Dr. Rose B. Bellanca told the assembled nominees that receiving a Bravo Award nomination from a student should be considered among the highest honors a college employee can earn, since "touching the lives of students is what we do."
The Bravo Awards were started in 2015 to give students an opportunity to thank helpful staff members and demonstrate appreciation for faculty in a more personal manner than traditional class evaluations allow. Since that first event, Student Activities has collected a total of 868 nominations.
Rachel Barsch, Supervisor of Student Activities, said the Bravo Awards nomination process encourages the sharing of stories that are "warmer and more impactful" than the data-driven rating system used on the college's student opinion questionnaires.
The nominators remain anonymous, but the nominations certainly aren't void of emotion. Here are some excerpts:
Nomination of Dennis Bila
Mathematics faculty member
"Truly, in no uncertain terms, Professor Bila is the best teacher and role model I've ever had the privilege of knowing; the greatest regret of my academic career is not meeting him earlier. The man transcends teaching; he is the academic father-figure you never knew you needed. … He turned a course as difficult and vaunted as Calculus 3 into a joyous and fruitful experience."
Nomination of Danette Bull
Physical Sciences faculty member
"Professor Bull has an excellent grasp on the material and clearly is invested in doing a good job of teaching the material; all of these positive traits make for an unbelievable bargain for the price. She easily outpaces professors on the four-year university level in nearly every teaching metric (in my opinion), and for that I think she's a great asset to the college. If I end up half as intelligent, organized, curious, thoughtful and hard-working as Professor Bull, I would count my life as a successful one."
Nomination of Susan Dentel
Life Sciences faculty member
"Professor Dentel has nearly single-handedly managed the WCC STEM Scholars Program, of which I am a member. She has undertaken the Herculean task of managing nearly every facet of the program in addition to her duties as a professor with the college. Prof. Dentel has taken diligent steps to make sure every student has a clear academic plan, a faculty mentor, supplementary academic support, financial assistance for tuition and books, while personally doing her best to instill a belief and confidence in each of us. Her imprint on the cohort extends past academic issues and into ensuring that all of us are in the best possible position to succeed moving forward, and for that I am very thankful."
Nomination of James Popovich
Industrial Technology faculty member
"I've never come across such a phenomenal instructor. The way he is so patient with his students is something I've never seen in an instructor before. … Professor Popovich has spent many hours with me and my classmates, above and beyond what is required, reinforcing the lessons taught. Not because we were lacking, because he recognized we were learning."
There were more than 180 total nominations submitted (some faculty and staff received multiple nominations). Below is a list of all the nominees:
Mohammed Abella, Mathematics faculty
Amnesty Alston, Childcare Professional
Aaron Anderson, Human, Social & Behavioral Science faculty
Laurice Anderson, Performing Arts faculty
Jing Bai Swanson, Computer Science faculty
Brenda Baraniak, Purchasing & Student Accounts Support
Steven Barone, Math, Science & Engineering faculty
Christopher Barrett, Anthropology faculty
Morgan Barrie, Photography faculty
Maryam Barrie, English/Writing faculty
James Bauer, Student Services Professional Counselor
Dena Blair, Communications faculty
Veronica Boissoneau, Coordinator of Student Organizations
Marvin Boluyt, Biology faculty
Caleb Boswell, Student Services Advisor
Danette Bull, Physical Sciences faculty
Starr Burke, Behavioral Sciences faculty
Cristina Buzas, Student Services Advisor
Justin Carter, Auto Services faculty
Robert Carter, HVACR faculty
Tabetha Chaney, Student Employee
Bradley Clink, Welding faculty
Michelle Coleman, Philosophy faculty
Myron Covington, Human, Social & Behavioral Science faculty
Nicole Cullin, Human, Social & Behavioral Science faculty
Kirsten Cunningham, Childcare Professional
Jason Davis, Mathematics faculty
Brittany Davis-Johnson, Childcare Professional
Allen Day, Auto Services faculty
Susan Dentel, Life Science faculty
Khiet Do, Industrial Technology faculty
Danielle Douglas, Math, Science & Engineering faculty
Kristen Ellis, Childcare Professional
Laura Evans, Math, Science & Engineering faculty
Amir Fayaz, Physical Science faculty
Beth Feldkamp, Student Success Specialist
Cheryl Finley, Student Services Advisor
Mark Foret, Math, Science & Engineering faculty
Betsy Foss, ESL faculty
Patty Fragner, Human, Social & Behavioral Science faculty
Micheal Galea, Computer Instruction faculty
Michelle Garey, Foreign Languages faculty
Andreia Karina de Carvalho Gendera, Business & Computer Technologies faculty
Cassandra Goerge-Sturges, Psych/Education faculty
Margaret Green, Basic Skills English faculty
Rhonda Greene, Purchasing & Student Accounts Support
Erin Hammond, Radiography faculty
Robert Hatcher, Mathematics faculty
Deborah Hill, Human, Social & Behavioral Science faculty
Rachel Hoffman, Human, Social & Behavioral Science faculty
Terri Jennings, Student Services Advisor
Tresa Jex, Human, Social & Behavioral Science faculty
Patrick Johnson, Math, Science & Engineering faculty
Charles Johnson, Humanities faculty
Danielle Joye, Human, Social & Behavioral Science faculty
Carol Kirkby, Human, Social & Behavioral Science faculty
Nichole Klemmer, Mathematics faculty
Dougles Langs, Social Science faculty
Julie (Niki) Lee, Academic Advisor, ATP
Patricia Lehman, Human, Social & Behavioral Science faculty
Anthony Lessard, Lab Assistant
Hava Levitt-Phillips, English/Writing faculty
Kyle Linford, WTMC Mathematics instructor
Robert Lowing, Auto Body faculty
Matthew Lucas, WCC Sports Supervisor
Daniel Majaess, Astronomy faculty
Smita Malpani, Environmental Science faculty
Khaled Mansour, Computer Instruction faculty
Gayle Martin, Human, Social & Behavioral Science faculty
Kristen Meck, Math, Science & Engineering faculty
Michele Meissner, Business & Computer Technologies faculty
Jan Militello, Veterans Center Student Advisor
Bryan Miller, Math, Science & Engineering faculty
Lonnie Mitchell, Math, Science & Engineering faculty
Jacqueline Montalvo, Health Sciences faculty
Jimmy Moore, Public Service Careers/Apprenticeships faculty
Mary Mullalond, English/Writing faculty
Michael Naylor, Performing Arts faculty
Leslie Neal, Student Services Advisor
William Nelson, Radiography faculty
Jodi Neuman, Dental faculty
Nathan Oliver, Welding faculty
Maria Ortega, Behavioral Sciences faculty
Carol Osborne, Career Education Coordinator
Christopher Packard, Human, Social & Behavioral Science faculty
Jack Peeples, Human, Social & Behavioral Science faculty
Thornton Perkins, History faculty
Dale Petty, Electrical/Electronics faculty
Sharyl Politi, Culinary Arts faculty
Julie Pomerville, Human, Social & Behavioral Science faculty
Jessica Ponce-Torres, Student Development Tech Assistant
Michael Quail, Mathematics faculty
Kristin Rahn, Math, Science & Engineering faculty
Juan Redondo, Foreign Languages faculty
Bill Reichert, Networking faculty
Jennifer Rivas-Murillo, Human, Social & Behavioral Science faculty
Shequelia Rogers, Health Sciences faculty
Bayne Roland, Human, Social & Behavioral Science faculty
Elise Sampson, Human, Social & Behavioral Science faculty
Heather Sanford, Student Welcome Center Call Center Specialist
Tracy Schwab, Physical Sciences faculty
Carl Seaver, Human, Social & Behavioral Science faculty
Karen Shaper, Human, Social & Behavioral Science faculty
James Skufis, Radiography faculty
Karen Smith, Facilities Management
Aaron Smith, Human, Social & Behavioral Science faculty
Mary Smyth, Health Sciences faculty
Claire Sparklin, Communications faculty
Kathryn Staron, Human, Social & Behavioral Science faculty
Ross Strayer, Life Sciences faculty
Leon Swan, Math, Science & Engineering faculty
Nancy Sylvester, Student Services
Clifford Taylor, Mathematics faculty
Larry Taylor, Math, Science & Engineering faculty
Anthony Terry, Business & Computer Technologies faculty
Elisabeth Thoburn, Humanities faculty
Michael Thompson, Human, Social & Behavioral Science faculty
Katie Torkelson-Regan, WTMC Science instructor
Susan Travis, Health & Applied Technologies Counselor
Bonnie Truhn, Adult Transitions Director
Jennifer Tucker, Human, Social & Behavioral Science faculty
Randy Van Wagnen, Digital Media Arts faculty
Ruth Ann Walsh, Public Services Careers faculty
Donna Wasserman, Social Sciences faculty
Douglas Waters, Business faculty
Anthony Webster, Student Resource Specialist
Benjamin Wielechowski, Human, Social & Behavioral Science faculty
Andrea Wilseck, Student Services Tech Assistant
David Wooten, Biology faculty
Heather Zettelmaier, Human, Social & Behavioral Science faculty
Elizabeth Zimmerman, WTMC Mathematics instructor
Tags: Bravo Awards, ousearch_News_2019