April 8, 2019 Washtenaw Community College
Students at Washtenaw Community College got a glimpse at how their classwork applies to the real world during the Professionals in the Classroom program on April 3-4.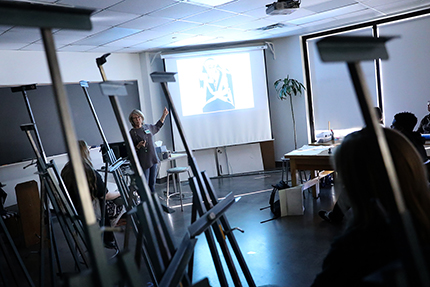 "Our students have the opportunity to see real world, living, breathing examples of the course content and make connections in a deep, meaningful way," Communications instructor Claire Sparklin said of the fourth annual event. "With Professionals in the Classroom, students create critical transformations between their student life and future professional life."
Program coordinator Leslie Neal leads an eight-person committee of WCC faculty and staff that reaches out to a wide array of professionals in the community and matches them with appropriate classes throughout every department at the college.
For the first time this year, Professionals in the Classroom included a panel discussion. Students in the college's Nursing program were joined by eight industry experts that included a forensic nurse, an emergency trauma nurse and a pediatric nurse.
Speaking in front of a classroom was nothing new for illustrator Cathy Gendron. She called on 30 years of teaching experience at the College for Creative Studies in Detroit when she presented to Jill Jepsen's Basic Design I (ART 112) class about her book, newspaper, standalone and portrait illustrations. Gendron said it was fun to discuss her profession strictly from a business standpoint.
"There was a lot of interest from the class and quite a few students who were very interested in pursuing a career by making art," Gendron said.
Matt Burch, on the other hand, had never stood in front of a classroom. Burch is a principal security consultant at Optiv who spoke to Khaled Monsour's Introduction to Programming with C++ (CPS 171) and William Reichert's Identity with Windows Server 2016 (CNT 224) classes.
Burch is a white hat hacker who attempts to break into computer networks to test and assess their security.
"Security in education and the workplace is driven from a defensive position, but that doesn't really consider the adversarial perspective," Burch said. "There's a gap between those two different knowledge sets, so I have an interest in raising awareness and bringing insight into what that looks like."
Burch is a community college graduate himself. He explained to students how he followed up his education from Henry Ford Community College with a number of industry certifications.
But it's not just students who benefit. WCC faculty members get an additional resource to drive home important lessons to their students.
"The most valuable aspect is hearing the professionals reinforce concepts that have been covered in class," said Business faculty member Doug Waters who welcomed professionals into two of his classes. "It means more coming from someone on the outside."
WCC Director of Media Relations Susan Ferraro spoke to Waters' Business Communication (BMG 207) class and State Farm franchise owner Jackie Davis-Betsari presented in his Introduction to Business (BMG 140) class.
"(Davis-Betsari) shared her transition from a six-figure job in corporate America to starting her business and making roughly $25,000 her first year," Waters said. "At the beginning of the semester, we discussed the hard work involved in starting businesses, so she brought this to life."
Sparklin said her professional – criminal intelligence analyst Adrianna Downing – was a perfect tie-in to the curriculum in her Intercultural Communication (COMM 225) class.
"Ms. Downing was a shining example of bridging communication barriers between cultures and ignited my students' curiosity in STEM studies," Sparklin said.
Interested in participating in a future Professionals in the Classroom event? Contact Leslie Neal at [email protected].
Tags: ousearch_News_2019