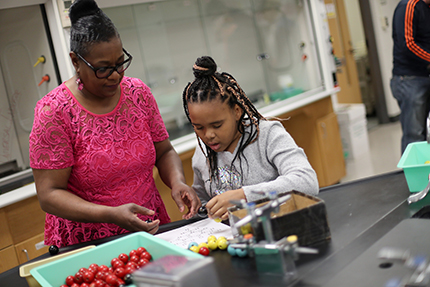 Pamela Lewis and her 9-year-old daughter were running late to their last of three Free College Day classes, but Evanna was fully captivated by what was in front of her on the first floor of the Crane Liberal Arts and Science Building.
"She loves rocks," Pamela said with a laugh. "My phone is going to be full."
Evanna was finding specimens that particularly interested her in the Morris/Croake Mineral Collection. Click. Then she'd find the name of that specimen on the legend posted nearby. Click.
The bright yellow one on the top shelf? Click. "114. Sulfer Clusters." Click. The one on the middle shelf that's split in half? Click. "122. Calcite on Black Siderite." Click. The shiny, metallic one on the bottom shelf? Click. "133. Specular Hematite." Click. And on and on.
Pamela and Evanna did eventually make it to "Aviation History: A Local Connection." But even if they missed the introduction of that presentation, Pamela Lewis had already accomplished her purpose for attending the bi-annual event on the Washtenaw Community College campus.
"There's a group of us from the Lincoln Consolidated School District that brought young kids just to expose them to a college campus," Lewis said. "We wanted to let them see what it's all about, see the atmosphere, get that seed planted that they want to go to college after high school."
Free College Day coordinator Victoria Bennett said the number of young children and families attending the event has steadily grown since it was first introduced as part of the college's 50th anniversary celebration in 2014. It's now one of the college's most popular events, offered twice each year – in the spring and fall.
"The event was created to show adults in our community what's happening in our classrooms and labs across campus. Over time, it has become a popular event for families," Bennett said. "We've also seen an uptick in the number of 18- to 25-year-olds who are attending, which is great, and we've tweaked our programming to better accommodate guests of all ages. We want everyone from the community to come visit, take a class and enjoy our beautiful campus."
More than 500 community members took WCC up on that offer on April 6. They registered for more than 1,200 seats in classes spread across three time slots; pushing 27 of the 30 classes offered to capacity before the day of the event.
Class offerings ranged from 'A' (What Do You Know About Audio Technology) to 'Z' (The Art of Zentangle); from academic (Cells, the Smallest Living Unit) to entrepreneurial (How to Start a Small Food Business); from being active (Modern Dance Experience) to learning to be more expeditious (Understanding Your Procrastination Tendencies).
The next Free College Day is scheduled for Sunday, Sept. 29.