Following his graduation from Eastern Michigan University on Sunday, Washtenaw Community College alumnus Thomas Klemm is two-thirds of the way through a trifecta of Washtenaw County higher education.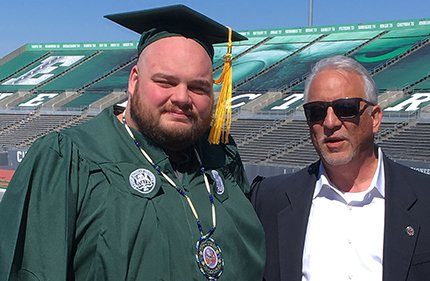 The next leg: The joint Social Work and Political Science Doctoral Program at the University of Michigan beginning this fall.
Not bad for a guy who started shooting heroin and dropped out of high school at the age of 16.
With his bald head, thick beard and imposing frame, Klemm is the first to admit he doesn't have the appearance of a stereotypical academic. Nor the background. But that's exactly the path he finds himself on after being accepted by both the U-M Social Work and Political Science programs, a significant feat for an undergraduate.
Klemm is a citizen of the Pokagon Band of Potawatomi Indians, a federally recognized tribe located in southwestern Michigan and northeastern Indiana. His battle with addiction, his recovery and his decision to pursue a career in social work were documented in a two-part series on the tribe's website titled 'A Better Way to Live.'
Since moving to a sober living facility in Ypsilanti in 2014, Klemm has built the credentials necessary to impress admissions boards. At WCC, Klemm completed a Human Services associate degree and transfer program that leads to a Bachelor of Social Work from EMU.
At EMU, Klemm won a competitive grant to conduct research on the Pokagon Band – the starting point of his goal to become a professor "doing research work in native communities, with native communities, for the benefit of native communities."
He also worked as a Recovery Support Specialist at Dawn Farm, an addiction treatment center in Ypsilanti, from 2016-2018 before joining the Poverty Solutions program at U-M as a research assistant.
The string of academic success and accomplishment had a very definitive starting point, Klemm says: His first semester on the WCC campus in Fall 2015.
"Passing 13 credit hours that semester is still the most profound academic success I've had," says Klemm, who has been sober for nearly five years. "I was shocked to be able to do it. Nothing has matched how proud I was.
"I hadn't completed a semester of school with a passing grade since the seventh grade. I just hoped I could get to class most days and turn in my assignments. The fact that I was able to excel, and ended up getting all As, was huge."
That first semester included an Introduction to Human Services class, the first of several led by WCC Behavioral Science faculty member Will Teague, who Klemm calls a major influence on his academic journey. In fact, when Klemm was accepted into his first Ph.D. program – at the University of Chicago – he wrote Teague an email saying "the biggest reason I got in was because of your advice."
It's been a long, winding and unpredictable road for Klemm. From high school dropout and drug addict to finding success at community college to presenting research at academic conferences to being accepted into a doctoral program at one of the world's elite universities.
But if you think this underdog is intimidated by his next challenge, you'd be wrong.
"I was way more scared coming into WCC than I am going into this Ph.D. program," Klemm said. "I'm a little nervous about this. I'm going to have to work really hard. I won't be the one with the most prestigious background – I'll have kids from Stanford and Cornell in my cohort – but I know I can work like a dog."
Tags: Graduation, Keeping Up the Good Work, ousearch_News_2019